PB&J: Picture Books and All That Jazz
September 12 - 15, 2021
TYPE & LENGTH:
In-person 4-day/3-night retreat & workshop
Retreat includes all accommodations and meals
Workshop includes faculty presentations, writing exercises, editor review, round table critiques, and ample time to work on your own writing
PARTICIPANT CAP:
14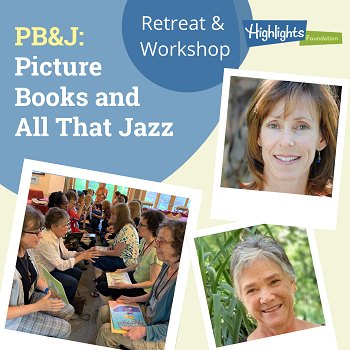 WHY THIS WORKSHOP?
Everyone loves picture books! But writing stories that sell means going beyond a fun idea. In addition to structure, word choice, and plot, have you considered voice, style, rhythm, layout, rhyme, audience, tone, and sound?
This workshop with award-winning picture book authors Darcy Pattison and Leslie Helakoski digs deep into the many layers that create strong creative stories. Through presentations, hands-on workshops, ample writing time, and round table critiques, you will:
Work on your craft:
Learn how to entice readers with your writing.
Find new ways to understand story.
Investigate how art enhances writing and inspire yourself to make room for the art as you write.
Complete writing exercises and enjoy free writing time.
Generate ideas for the next picture book.
Explore focus and structure.
Network and be mentored:
Participate in round table critiques.
Get feedback on your manuscript from an acquiring editor.
IT'S A GREAT FIT IF:
You have a serious interest in writing picture books. Experienced writers as well as beginners will benefit from understanding what makes a book sell and how structure and voice help tell the story and satisfy the reader.
You have completed two or more drafts of a picture book manuscript. You'll get tips for revision and learn to generate ideas for your next one!
You have read at least 20 newly published picture books in the past few months. Hopefully more!
You could benefit from professional feedback on your work. This course offers reviews from both faculty, guest faculty, and peers.
You are not afraid to dig deep into revision and dissect what makes picture books work. Using mentor texts and lectures, the faculty will help you understand the components that make picture books soar.
HOW THIS WORKSHOP IMPACTS KIDS:
Picture books are a meaningful experience for young readers and listeners. In this course, you'll go beyond the basics to study the components that make a memorable picture book.
TENTATIVE AGENDA:
Sunday, September 12
Afternoon
Arrival and check in by 5pm Eastern
Evening
Appetizers & Dinner
After dinner:
Introductions and sharing: What's your favorite picture book?
Picture Book Components–Character, Plot, Getting the Story Down
Monday, September 13
Morning
Breakfast with a story
Focus and Structure: Focusing Statement and Three-Act Structure
Forms: What's the Best Way to Tell this Story?
Afternoon
Lunch with a story
Roundtable critiques
Free writing time
Evening
Appetizers & Dinner
After dinner: Word Choice/Rhythm and Rhyme
Tuesday, September 14
Morning
Breakfast with a story
Re-envisioning Your Picture Book: Quantum Leap Revisions; Cutting
Afternoon
Lunch with a story
Roundtable critiques
Free writing time
Evening
Appetizers & Dinner
After dinner: Fireside chat
Wednesday, September 15
Morning
Breakfast with a story
Presentation:Working on the Next Picture Book…Ideas
Final Round Table Critiques
Afternoon
Lunch and farewells
FAQs About Highlights Foundation Workshops:
RELATED RESOURCES:
9 Picture Book Topics to Avoid
How Do You Know If You've Written a Picture Book?
Writing Picture Books That Soar
Short and Easy, Right? How Hard Can It Be to Write a Picture Book?
3 Tips for Writing Funny Picture Books
Pointers for Writing Powerful Picture Books
Nonfiction Picture Books: Get it Right with Research
FROM OUR COMMUNITY:
"Leslie, you were actually one of the first people to really believe in this manuscript and it never would have come to be if it wasn't for you and Darcy. It had a completely different setting and style until you and Darcy challenged us to rewrite the beginning of one of our manuscripts on the first night of PB&J. I tend to cling tightly to my first ideas so it was the perfect exercise (and your critique was the perfect reminder) to not settle for the first thing that comes to mind. I have already shared with my writer groups what an amazing experience that workshop was and gave it my highest recommendation."
"The faculty was excellent – knowledgeable, focused, and generous with their time."
"The PB&J workshop was delicious! Darcy and Leslie encouraged, enlightened, and energized in a most personable way."
"This conference was great! A perfect mix of learning and practicing our craft."
"Darcy and Leslie were extremely accessible for advice, critique and casual conversation."
Faculty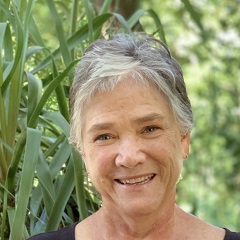 Published in ten languages, children's book author and writing teacher Darcy Pattison has been published with Harcourt, Philomel/Penguin, Harpercollins, Arbordale,…
Learn more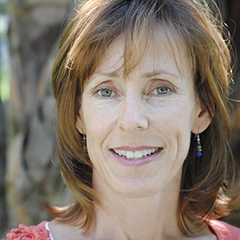 Leslie's award-winning books are known for their humor and word play. Woolbur (HarperCollins) was nominated for book awards in 13…
Learn more
$1,099.00
All-inclusive registration includes workshop tuition, lodging, meals, beverages, and snacks..
Free shuttle is service available from the local airport, train, and bus station, or you can park on site. Get more logistics information here.
Pay in full or secure your spot with a deposit of $200 and payment plans as low as $75/month. We'll be in touch with details after you register.
Do you want help finding a workshop or resources that will fit your needs? Talk to one of our ambassadors.
workshop information
Begins on Sunday, September 12, with dinner and ends on Wednesday, September 15, with lunch.