Writing First Chapter Books and Early Readers
August 28 - 31, 2021
TYPE & LENGTH:
In-person at our Retreat Center with lectures, writing exercises, faculty consultations and feedback, with ample time to relax, retreat, and work on your own writing.
Begins at 5:30pm Eastern on Saturday, August 28, 2021
Ends at 1:00pm Eastern on Tuesday, August 31, 2021
Submission for in-course feedback session due by August 14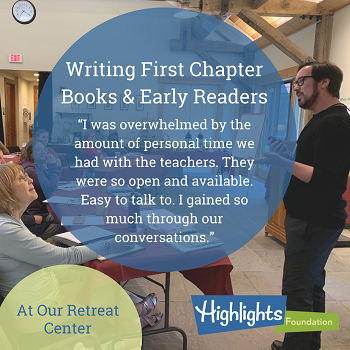 PARTICIPANT CAP:
20
WHY THIS WORKSHOP?
Do you remember the first time you read a book all by yourself? Was it Frog and Toad or Splat the Cat? Do you pause in front of library shelves featuring Jada Jones and Ivy & Bean? Do you want to bring joy and confidence to readers who are picking up a book on their own for the very first time? If so, this workshop is for you.
In between the read-aloud world of picture books and the more challenging realm of middle grade novels lies an exciting spectrum of fiction and nonfiction for beginning readers. These early readers and first chapter books spark a love of independent reading and build confidence in brand-new readers.
This is an in-person workshop that features lectures, discussions, writing exercises, networking time and a 1:1 consultation with a faculty member. You will:
Find out the differences between picture books, early readers, and transitional chapter books.
Examine what makes the best books for this age group successful.
Zero in on where your work–fiction, nonfiction, or both–fits in.
Learn how to generate new ideas.
Learn about researching and writing your stories.
Discover how to find the right publishing home for your work.
Have one-on-one critique sessions with a workshop leader.
Have workshop sessions from faculty.
Try writing exercises to strengthen your work-in-progress.
Enjoy free time for writing.
IT'S A GREAT FIT IF:
You're a picture book or middle grade author. Curious about whether you can write an early reader or chapter book? We'll help you find out.
You've got an idea for a chapter book or early reader. You'll get 1:1 feedback to help you strengthen your idea.
You've written a chapter book or early reader and want to know what's next. This course will help you learn how to find the right publishing home for your story.
You want some time to relax, retreat, and work on your own projects. The Highlights Foundation retreat center is the perfect place to do all of the above! (If you are more interested in online courses, please visit our online class listings here.)
HOW THIS WORKSHOP IMPACTS KIDS:
Early readers and chapter books are an important part in a child's reading development, allowing children time to develop the necessary skills, confidence, and love of reading that will put them on the path of becoming successful lifelong readers. In this course, you'll gain understanding of the unique needs of books for children who are beginning to read independently.
TENTATIVE AGENDA:
Pre-workshop submission details:
In order to prepare for the one-to-one consultations, please submit up to ten, double-spaced pages from your chapter book or up to ten pages from early reader projects (no more than two projects, ten pages total). Your submission should include a cover letter where you can tell us a little about your project, including where you are in the draft (finished, revising, just starting out). Also, feel free to include any pertinent biographical information in the cover letter. Submission link will be provided by August 7, 2021 with submissions due by August 14, 2021.
Retreat Details:
Saturday, August 28
Afternoon
By 5pm, Arrival and check in
Evening
Appetizers and Dinner
After dinner: Welcome and Introductions
Sunday, August 29
Morning
Breakfast
Lecture: How Early Readers Help Kids Learn to Read
One-to-Ones/Personal Writing Time
Afternoon
Lunch
Writing Exercise
Evening
Appetizers and Dinner
After dinner: Informal discussion and sharing fireside, guests Debbi Michiko Florence and Kashmira Sheth
Monday, August 30
Morning
Breakfast
Lecture: Character, Setting, and Structure in Early Readers and First Chapter Books
One-to-Ones/Personal Writing Time
Afternoon
Lunch
Writing Exercise
Zoom Guest editor, Eileen Robinson
Evening
Appetizers and Dinner
After dinner: Open Mic
Tuesday, August 31
Morning
Breakfast
Opportunities in Educational/Trade Work-for-Hire
Writing Exercise
Final words/questions/goals to bring home
Afternoon
Lunch and Farewells
FAQs About Highlights Foundation Workshops:
RELATED RESOURCES:
Wiley Blevins: Early Readers and Transitional Chapter Books: What Are They and Why Are They Important?
Laurie Calkhoven: Picture book? Early Reader? Chapter Book? Where Does Your Story Fit?
New for New Readers: What (Exactly) IS an Easy Reader?
Laurie Calkhoven: Meditation to Uncover Character
Scholastic's Branches, a line of early chapter books.
FROM OUR COMMUNITY:
"The faculty were knowledgeable and engaging. They exceeded my expectations."
"I was overwhelmed by the amount of personal time we had with the teachers. They were so open and available. Easy to talk to. I gained so much through our conversations."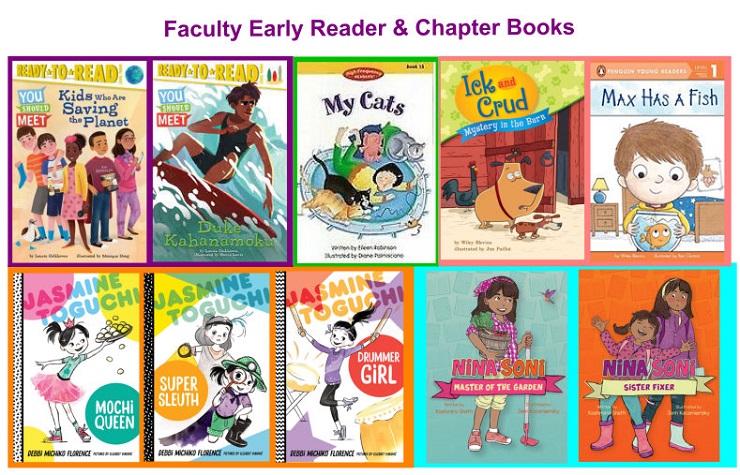 Faculty