Seize the Reader: Writing for Emotional Impact in MG and YA Novels, An On Demand Online Course
On Demand
Please note: this course is full. Please click here to be placed on our waiting list.
TYPE:
Online (On-demand, self-paced, with monthly live office hours)
Here are the dates for upcoming live office hours (12-1pm Eastern)
October 7
November 4
December 2
COVID Reschedule/Refund Policy
What's the difference between Highlights Foundation workshop types?
LENGTH:
You can complete this program at your own pace, but you will have six months of access to the recordings and office hours after your purchase.
WHY THIS WORKSHOP?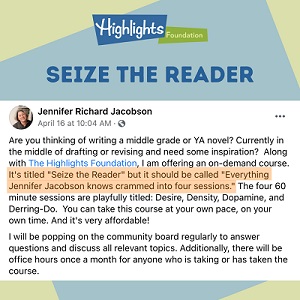 IT'S A GREAT FIT IF:
You are looking to add depth to your current work-in-progress. This course will show you how to provide emotional resonance within your novel.
You've jotted down ideas for a novel but can't get your story off the ground. Lectures will provide ideas as well as writing prompts to help further your understanding of your idea and get words on the page.
You are writing a novel. From those just starting out on a new project to those seeking momentum in finishing and revising, Jennifer Jacobson's lectures are meant to inspire and spark ideas for your work.
You need a workshop you can complete at your own pace. You can work through the lessons individually and join monthly office hours to ask questions and engage with your writer community.
COMMITMENT REQUIRED FOR THE BEST EXPERIENCE:
You can work through these workshop sessions at your own pace. For an enhanced experience you can join monthly office hours to ask questions and engage with your writer community. There is also a Community Discussion Forum if you want to spend some extra time in community.
Trying to figure out how this course fits into your schedule? Read some ideas about planning for the right level of commitment.
MORE DETAILS:
Four approximately hour-long recorded; interactive sessions include:
Session 1: Desire
What invites readers to fully participate in the experience of your protagonist? Desire. Giving your character a burning desire–or in fact, two desires (an exterior and interior desire) — allows readers to enter the fictitious dream. It sounds easy, right? Actually, most of us discover that establishing and sustaining taut desire lines is one of the greatest challenges of writing a novel.
Session 2: Density
William Sloane wrote: "Writing is not a matter of a single, simple progression, with each sentence making only one point. Every paragraph, every sentence is related to the entire rest of the book…By 'entire rest of the book' I mean what is to come as well as what has gone before." In this session, you will explore ways of fusing your work with meaning to create greater density and poignance.
Session 3: Dopamine
Dopamine is the chemical in our bodies that cause us to want more, more, more. Considering dopamine and the need for consistent micro-tension keeps the reader wanting more, more, more as well.
Session 4: Derring-Do
By the end of the story, our protagonists have stared down their greatest fear and in doing so, transformed their perception of themselves and the world. Problem is, our protagonist's fears start to look a lot like our own. How do we show up, stay in place, and write the most truthful stories – those that move others to feel their own truths?
Your registration also includes the following:
Access to our monthly "office hours" with Jennifer Jacobson.
Community discussion: The course has a Community Discussion Forum where you can post questions and comments. Jennifer Jacobson will monitor questions brought forth on the community page on a monthly basis. This is also a wonderful place to find writing partners.
6 months of access to the recordings and office hours.
In addition, private critique and coaching services with Jennifer are available and can be arranged separately for an additional fee.
Nervous about critiques? See how the Highlights Foundation approaches the process here.
Office hours:
Here are the dates for upcoming live office hours (12-1pm Eastern)
October 7
November 4
December 2
RELATED RESOURCES:
Jennifer Jacobson's #HFGather Writer Chat with Sarah Aronson
Jennifer on taking your creativity to the next level, from our Into the Words podcast
Faculty & Special Guests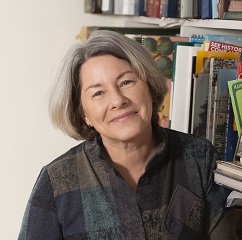 Jennifer, a graduate of Harvard Graduate School of Education, is the author of over a dozen award-winning children's books including…
Learn more