Liberations and Limitations in Writing Verse Novels Online Course Apr-May 2021
April 14 - May 12, 2021
Online Course Info:
This is a 5-week online workshop that features weekly Wednesday evening "live" lectures, discussions, writing exercises, and roundtable sessions. You will be offered informal feedback on all writing exercises within the virtual course forum, and you will have multiple poems reviewed in workshop during our final live session.
Online Workshop Participant Cap:
16 students.
What You'll Learn & Experience:
In this workshop, you will explore the challenges of writing novels in verse. You'll discover how to use the form to its utmost advantage while taking into consideration all the foundations of storytelling.
You will:
Watch videos, explore resources and complete structured assignments.
Have a phone consultation with your instructor about your project.
Review the advantages and disadvantages of working with these forms.
Explore issues of pacing, plotting, secondary character development and imagery.
The course is divided into 5 sessions:
Session 1: Course Overview and Defining the Verse Novel
Session 2: Limitations in Verse
Session 3: Liberations in Verse
Session 4: The Hybrid Novel as Inspiration
Session 5: Workshop
You can find more session details under "Agenda" below.
Live sessions will be held at 7 pm Eastern time on Wednesdays (4/14, 4/21, 4/28, 5/5, and 5/12), followed by time for Q&A.
Please note:
If you're unable for any reason to attend any of the sessions, you'll have access to the recordings of each through June 30, 2021.
Join Us If:
You have an in-progress or completed draft of a middle grade or young adult novel in verse. In this course, you'll explore working with this form.
You need a workshop that fits into your schedule. This is an online course. You may attend the live sessions or watch the replays.
You are looking for writing exercises to extend your understanding of the form and grow your plot. Each week you will be asked to complete a series of writing exercises. You can receive feedback in the virtual forum from your instructor and peers.
Preliminary Agenda
LIVE sessions will be held at 7 pm Eastern time on Wednesdays (4/14, 4/21, 4/28, 5/5, and 5/12), followed by time for Q&A.
The course is divided into 5 sessions:
Session 1: Course Overview, Introductions and Defining the Verse Novel
Get to know your classmates, what the course is about and dive into some deep writing exercises that help you locate your main character's voice and desire
Session 2: Limitations in Writing Verse Novels
Secondary character development and dialogue in verse novels, reader confusion and overall issues with plotting, pacing and action in verse novels.
Session 3: Liberations in Writing Verse Novels
Solutions for circumventing the limitations, closer look into Long Way Down, Clap When You Land, and many other successful verse novels.
A look at how imagery, line breaks, white space and other poetry devices can work to generate story tension, character development and emotion.
Session 4: A Closer Look at the Multi-Genre Novel Dress Coded
A deep look into this novel form and how it can help solve some of the limitations of verse novels. Exercises in interpolation.
Session 5: Workshop
Workshop 8-10 pages of your verse novel with the group
Course Assigned Reading:
Clap When You Land by Elizabeth Acevedo
Long Way Down by Jason Reynolds
Dress Coded by Carrie Firestone
Course Suggested Reading:
Skyscraping by Cordelia Jensen
The Way the Light Bends by Cordelia Jensen
Every Shiny Thing by Cordelia Jensen
Resources:
Auditioning Poetry Devices for Your Verse Novel's Voice, by Cordelia Jensen
The Verse Novel: If I Can Do It, So Can You, by Kathryn Erskine
YA Wednesday: Better and Verse, by Padma Venkatraman
Read a verse novel a day for National Poetry Month
Best 9 Tips On Plotting a Novel in Verse from the Fiction Notes blog.
Testimonials:
"Cordelia's course was fabulous. She is a generous, kind teacher. Her knowledge about the subject matter is deep. Cordelia took every person's work seriously and read every submission carefully and thoughtfully. I cannot imagine a better teacher!"
Faculty & Special Guests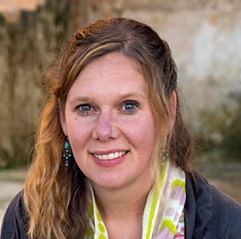 Cordelia Jensen graduated with a MFA in Writing for Children & Young Adults from Vermont College of Fine Arts in…
Learn more