Multiple POVs, Multiple Formats, and Non-linear Timelines for Novelists Online Course, Feb 2021
February 3 - 24, 2021
Online Course Info:
This is a four-week online course featuring LIVE sessions with faculty, writing exercises, discussions, a special guest interview, required reading discussions and individual consultations to discuss questions about your works-in-progress.
Online Workshop Participant Cap:
20 students.
What You'll Learn & Experience:
A story can't be poured into a mold and set for every novel. Some stories require innovative choices in order for the book to come to life. Discover ways to bend structure, point of view, and timelines to make the most of your story. Join novelist Joy McCullough to explore ways to shift timelines, develop hybrid structures, and successfully incorporate multiple points of view.
This four-part online course includes:
Three robust lectures with writing exercises, discussions, and Q & A
Required reading discussions to study point of view, structure, and timelines
Special guest interview: "How I Choose the Best Format for My Novel"
Individual consultations to discuss questions about your works-in-progress
Enrolled writers, please read at least one of the following titles before class. We look forward to sharing examples from these titles throughout our time together.
Every Body Looking by Candice Iloh
Dig. by A.S. King
We Dream of Space by Erin Entrada Kelly
I'll Give You the Sun by Jandy Nelson
Additional recommended reading:
Apple: Skin to the Core by Eric Gansworth
Dream Country by Shannon Gibney
How It Went Down by Kekla Magoon
The List by Siobhan Vivian
Please Ignore Vera Dietz by A.S. King
Sadie by Courtney Summers
We Are Not From Here by Jenny Torres Sanchez
The Truth Project by Dante Medema
Thirteen Doorways: Wolves Behind Them All by Laura Ruby
A Field Guide to Getting Lost by Joy McCullough
Red, White, & Whole by Rajani LaRocca (available 2/2/21)
Scroll down to see a more detailed agenda with dates and times.
Please note:
If you're unable for any reason to attend any of the sessions, you'll have access to the recordings of each through March 31, 2021.
Join Us If:
You are a middle grade or YA novelist at any stage in the writing process. Brainstorming ideas, working on your third revision, or something in between? This course will meet you where you are and help you bring your novel to the next level.
You are a writer looking to experiment. Are you looking for possibilities? New paths? Shaking up your narrative? This course will provide many ideas for your novel.
You enjoy online learning. This course has a blend of LIVE lectures via Zoom, and resources and engagement in the virtual classroom. You can keep up week-to-week with live sessions for maximum engagement, or watch the recorded lectures and work at your own pace.
You haven't written a novel before, but know you have one inside you. This specific course will uncover the endless possibilities that lay before you when bringing your idea to the page.
Preliminary Agenda:
Week 1
Friday, February 5
LIVE Zoom Session 1: Point of View and Your Novel, 3pm Eastern
Includes:
Welcome and introductions
Alternating POVs lecture with writing exercises
Small groups sharing of writing exercise and discussion
Q & A
Review of virtual classroom forum and additional resources
Week 2
Friday, February 12
LIVE Zoom Session 2: Forms and Narratives: Choosing the Best Structure for Your Novel, 3pm Eastern
Includes:
Interview with special guest Rajani LaRocca, "How I Choose the Best Format for My Novel"
Narrative Structure lecture with writing exercises
Small groups sharing of writing exercise and discussion
Q & A
Submission guidelines for consultation
Week 3
Friday, February 19
LIVE Zoom Session 3: Multiple Timelines Within Your Novel, 3pm Eastern
Includes:
Timelines discussion with writing exercises
Special guest discussion on non-linear novels
Q & A
Consultation schedule review and what to expect
Week 4
February 22-26,
Private Consultations LIVE via Zoom (Schedule TBD)
20 minute individual discussions
Review synopsis, ideas, and questions
The virtual classroom will be open from February 1-March 31 for writing exercises, additional resources and (optional) connect with writing partners or critique groups.
Scholarships Available
Scholarships are available for this workshop–application deadline is January 15, 2021.
Click here to apply!
For more information about scholarships, click here.
Faculty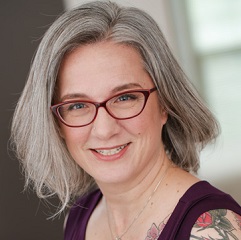 Joy McCullough's debut young adult novel Blood Water Paint earned honors including the National Book Award longlist and winner of…
Learn more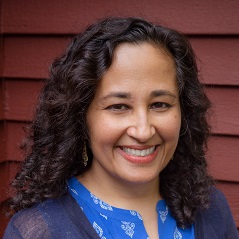 Special Guest Rajani LaRocca was born in India, raised in Kentucky, and now lives in the Boston area, where she…
Learn more