Unworkshop October 29 – November 2, 2020
October 29 - November 2, 2020
Our Retreat Center is now open for Unworkshops! To make sure that your retreat is a safe one, we have enhanced our cleaning protocols by following CDC, WHO, local health authorities and leading hotel industry best practices and guidelines. You can find out details of our campus protocols here.
Unworkshop: your own private retreat in a picturesque setting, for just $149/day! Come for any number of days between October 29 –  November 2, with a two-night minimum.
In an "Unworkshop," time is yours to spend as you please. No structure. No schedule. We'll provide you with comfortable lodging and three great meals a day. From the moment you arrive, you'll feel right at home and fussed over. We'll furnish a peaceful setting that lets you focus solely on your work.
Here's what you can expect when you arrive:
A cozy, private place to stay, with a writing table and other amenities, including hot beverage center.
Breakfast, lunch, dinner and round-the-clock snacks.
Computers and printers available for your use.
Respect for the sanctity of your creative space.
Imagine life away from chores and distractions. Imagine what you could accomplish!
"I cannot tell you how much the time there meant to me. I have never been that productive without a deadline. There must be some kind of special magic in those cabins…If you need time and space to work, I HIGHLY recommend it."—Heidi E. Y. Stemple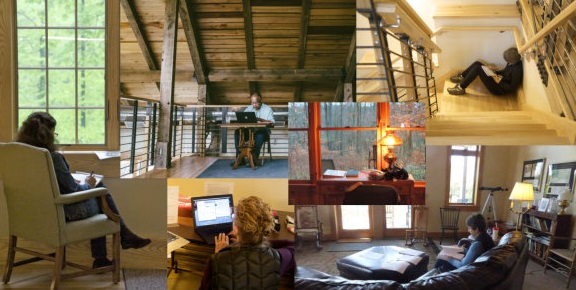 $298.00
All-inclusive registration includes workshop tuition, lodging, meals, beverages, and snacks. Free shuttle service is available from Scranton/Wilkes-Barre (AVP) International Airport. Airport pick-up at Newark Airport is also available for $75 round-trip.
We offer payment plans as low as $75/month. We'll be in touch with details after you register.
Do you want help finding a workshop or resources that will fit your needs?
Talk to one of our ambassadors.
workshop information