World Building: Construct Real and Fantastical Worlds with Tracey Baptiste, a Two-Day Intensive (Dec)
December 8 - 9, 2020
Online Course Info:
A well-developed world is an essential component to every story–short fiction through novels. Join Tracey Baptiste as she showcases rich mentor texts like THE SERPENT'S SECRET, DREAD NATION, THE BELLES, and more for a two-day intensive in world-building.
In small groups, participants will read and reflect on texts centered on time, people, landscape, culture, and power. Each of the two sessions will last approximately 90 minutes and are broken into reading time, group discussions, Q & A, and mini-lecture.
This course consists of two LIVE sessions, 90 minutes each, at 1 pm Eastern on Tuesday, December 8 and 1 pm Eastern on Wednesday, December 9.
Online Workshop Participant Cap:
Class size is limited to 30 students.
Agenda
Day 1, December 8, 1 pm Eastern
Session 1: Time
Readings:
THE SERPENT'S SECRET by Sayantani DasGupta, chapter 1
THE RED PENCIL by Andrea Davis Pinkney, pages 2-3 "Wheat"
THE CITY IN THE MIDDLE OF THE NIGHT by Charlie Jane Anders, pages 19-20
Breakout into groups: Nonstandard time
Session 2: People
Readings:
DREAD NATION by Justina Ireland, chapter 1
THE PRINCESS IN BLACK by Shannon Hale and Dean Hale, illustrated by LeYuen Pham, chapter 1
LIBRARY LION by Mikki Knudsen
PIECING ME TOGETHER by Renee Watson, chapter 2
Breakout into groups: Characters building worlds
Session 3: Landscape, Flora, and Fauna
Readings:
WESLANDIA by Paul Fleishman
THE LAST LAST-DAY-OF-SUMMER by Lamar Giles, illustrated by Dapo Adeola, pages 26-27
THE BELLES by Dhonielle Clayton, chapter 2
Individual assignment: Landscape drawing activity
Q&A (10 mins)
Day 2, December 9, 1 pm Eastern
Session 1: Culture (15 mins)
Readings:
SAL AND GABI BREAK THE UNIVERSE by Carlos Hernandez, chapter 2
DRAWN TOGETHER by Minh Le, illustrated by Dan Santat
Individual assignment: Culture list
Session 2: Power (20 mins)
This session is entirely whole group discussion using the chat feature
Q&A (10 mins)
Faculty & Special Guests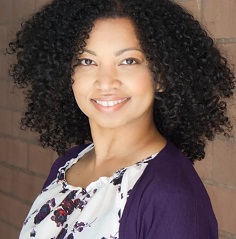 Tracey Baptiste is the New York Times bestselling author of Minecraft: The Crash, as well as the creepy Caribbean series…
Learn more