Meditations for Writers & Illustrators: An On Demand Course
On Demand
This is an on-demand course. You can begin it at any time.
Online Course Info:
This is an "on demand" course consisting of 12 pre-recorded, guided meditations and a 12-page meditation guide. Your registration includes a pdf of the meditation guide and six-months of access to the 12 videos included in this package.
What You'll Learn:
Laurie Calkhoven uses meditation at every stage of her writing process, from brainstorming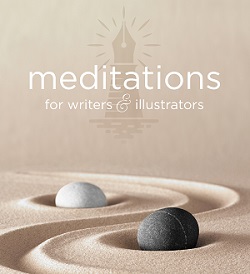 through revision. In between, she uses it to get to know her characters, conjure scenes, and solve story problems. You'll find video meditations in this package for all of those aspects of the writing process. Do them in any order you like and as many times as you like. For instance, the one for scene meditations may be helpful when you are writing a big scene. Use the character meditations over and over again every time whenever you start a new book. Choose any meditation that speaks to where you are in your story, and take it from there.
Meditations include:
Writing Meditations
General Brainstorming Meditations
Character Meditations
Scene Meditations
Plot Meditations
Revision Meditations
Resources: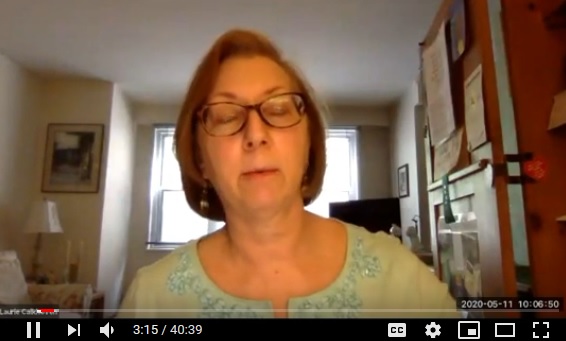 Listen to a meditation to uncover character
Listen to a meditation to uncover a scene
Testimonials:
About Laurie's character meditations:
I learned something deeper about a character that I've been getting to know for ten years.
I found this to be very useful! But my character started chatting to me in the first minute of the meditation so I kept stepping out of the meditation to write, but it worked!
I discovered some inner struggle my character is feeling. I hadn't expected that.
That exercise gave me great insight into my main character's relationship with another character. Thank you!
About Laurie's revision meditations:
It worked well. I let go of extraneous text.
I couldn't believe how fast the 15 minutes of revision went.
That flew by and really helped me hack and slash at a picture book that's been giving me trouble.
This got me unblocked from a picture book idea I've been toying with for quite some time.
Faculty & Special Guests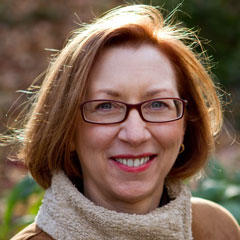 Special Guest Laurie Calkhoven is the author of more than 50 books for young readers ranging from award-winning nonfiction early…
Learn more