Latinx Writers: A Virtual Symposium 2020
September 15 - October 15, 2020
Online Symposium Info: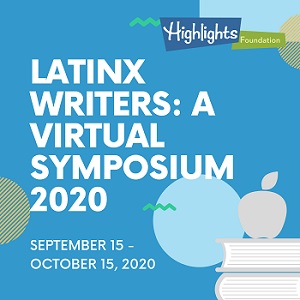 This virtual workshop, an entry in our "Essential Conversations" series, is an in-community intensive experience for Latinx writers. Each week there will be one Live Zoom session: lectures, panels, interviews and open Q&A's. There will also be one pre-recorded lecture released each week. Craft exercises will follow the pre-recorded session and writers will come together in a small group round table to share work and discuss. Exercises will build from week to week in the direction of a first draft.
There will be options for additional paid one-to-one critiques and business or marketing consultations following the one-month intensive.
What You'll Learn and Experience:
During the symposium, you will:
Take part in a broad forum on Latinx children's and young adult literature. The symposium is designed to be an exchange of ideas between participants and faculty.
Hear a series of faculty lectures, where faculty will speak both from their expertise in the world of writing and publishing for children and from their experience as Latinx book creators in the industry.
Discuss the many diverse Latinx identities and the unique challenges in publishing.
Be inspired by fellow Latinx creators.
Discuss how to generate authentic characters, details, and connections.
Take time to reflect, connect, and experiment.
Explore the Latinx experience in children's book writing and publishing.

What stories do today's children need from Latinx book creators and about Latinx people?
What stories speak to our varied experiences?
How can we diversify the existing body of Latinx children's literature?
Join Us If:
You are Latinx. This program is designed to be an exchange of ideas and a place to connect in community.
You write picture books, middle grade novels or young adult novels. This program is open to all Latinx kidlit creatives regardless of genre or age you are creating for.
You work in children's publishing. This "Essential Conversations" course will be stronger with voices from all sides of Latinx publishing.
Symposium Scholarship:
We're looking for partners to support this program. Click here to learn about sponsorship opportunities.
If you'd like to apply for a scholarship to attend the Latinx Symposium, click here.
Preliminary Agenda
Week 1: Identity
Tuesday, September 15:
Pre-recorded video: Welcome
Pre-recorded video: Keynote
Writing prompt
Sunday, September 20:
LIVE Zoom session
Cocktail hour
Conversations focused on the intersectionality of Latinx Identity
Week 2: Craft
Tuesday, September 22:
Pre-recorded video: Voice, Co-Authoring and more
Pre-recorded video: Cafe Chat
Free writing, reflections
Sunday, September 27:
LIVE Zoom roundtable critiques with faculty
LIVE Zoom session: Changing Gears
Week 3: Publishing & Marketing
Tuesday, September 29:
Pre-recorded video: Editor and agent conversations
Writing a Query Letter and Synopsis
Sunday, October 4:
Pre-recorded video: editor Q&A, agent Q&A, marketing Q&A
LIVE Zoom roundtable: Query Letter and Synopsis discussions
LIVE Zoom session: Changing Gears
Week 4: Mental Health/Self Care
Tuesday, October 6:
Pre-recorded video: Mental Health Through the Publication Process
Writing exercises
Sunday, October 11:
LIVE Zoom sessions:
Guided Meditation
A Deeper Conversation on Sustained Mental Health in Publishing
Week 5: Finale
Thursday, October 15:
LIVE Zoom sessions:
Final Q&A
Optional open mic
Resources:
Las Musas are Latinx authors whose racial, ethnic, and cultural identities are as diverse as their writing. Meet them at http://lasmusasbooks.com.
Latinx in Kid Lit explores the world of Latinx YA, MG and children's literature.
Latinx Kidlit Book Festival, a virtual celebration of Latinx KidLit authors, illustrators, and books.
TheLatinoAuthor.com provides a platform for Latino writers / Hispanic writers, Latino authors / Hispanic authors, and All readers to come together around the world.
The Latina Book Club website features interviews, book reviews, excerpts, book of the month, books of the year, and more.
Latinx in Publishing is a network of book professionals committed to supporting and increasing the number of Latino/a/x in the publishing industry, as well as promoting literature by, for, and about Latino/a/x people.
La Bloga, The world's longest-established Chicana Chicano, Latina Latino literary blog.
Faculty