Announcing the Latinx Writers Virtual Symposium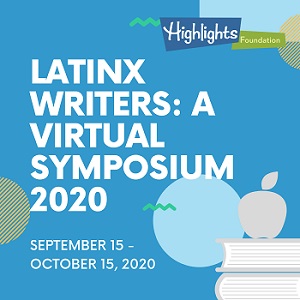 We are pleased to announce the Latinx Writers Virtual Symposium. This latest entry in our "Essential Conversations" series is an in-community intensive experience for Latinx writers of children's and young adult literature.
The Symposium will feature Live Zoom sessions, lectures, panels, interviews and open Q&A's; pre-recorded lectures; hands-on writing exercises; small group round tables and many opportunities for peer and mentor engagement. See the full description of the Symposium.
"Latinx people make up over 16% of the US population, and that number is steadily growing. But, according to the Cooperative Children's Book Center (CCBC), in 2019 only 5.3% of children's books published depicted Latinx characters," said Highlights Foundation Ambassador Alexandra Villasante.
"Mia Garcia, NoNieqa Ramos and I wanted to create a writing program to nurture and support Latinx writers so that we can change those abysmal numbers, and increase the representation that Latinx kids–and all kids– see in children's books. The Latinx Symposium will have a diverse, intersectional faculty and will address everything from craft to gatekeeping in publishing to how to build comunidad."
The Foundation will offer scholarships to the Symposium, as well as sponsorship opportunities for publishers, individuals and organizations who would like to offer support of the program.