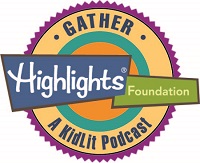 Listen in as we talk to kidlit creators about the craft of writing and illustrating books for children.
Podcast Episode #1 Angela Dominguez: Finding Inspiration in Family Stories
An interview with Angela Dominguez, featured artist for our 2019 Visual Arts Exhibit. Alison talks to Angela about how Angela's grandfather and his presence in her life became the basis for the book Sing, Don't Cry.
Listen Now:

---
Podcast Episode #2 Aram Kim: Doing School Visits When You're Not an Extrovert
Alison talks with author/illustrator Aram Kim, who was visiting us as a special guest for our Crafting Successful Author & Illustrator Visits workshop. They talk about developing a school program despite not being an extrovert and getting story inspiration from her Korean-American heritage.
Listen Now:

---
Podcast Episode #3 Christine Heppermann & Deborah Kovacs: Writing the Unreal
George talks to Christine and Deborah about the Writing the Unreal workshop and their many roles in the publishing industry.
Listen Now:

---
Podcast Episode #4 Jennifer Jacobson: Writing Retreats & Taking Your Creativity to the Next Level
Jennifer Jacobson talks with George about Unworkshopping at Highlights, the Whole Novel workshop, and taking your creativity to the next level.
Listen Now: