COVID-19 UPDATE & ONLINE GATHERINGS
Updated 3/31/20
Hello friends,
We are closely monitoring news regarding the coronavirus (COVID-19).
On-Campus Update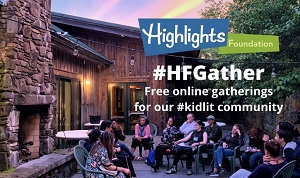 We have been busy rebuilding our 2020 schedule of programs. Some spring programs have been cancelled or moved to later in the year. If you are registered for a workshop, we will be in touch with specifics about your session. Some events are being converted to virtual workshops and online classes. In addition, we are working to add online offerings. We hope to have an updated 2020 program schedule by early April. From there, we will continue to adjust our program schedule as necessary. Thank you for your patience as we all adjust during these times.
Right now, it's too soon to know exactly when workshops will resume. If, at any time, you decide to cancel, we are happy to provide a full refund, or apply your deposit to another workshop. Of course, we hope you don't rush to cancel, and will wait to see what happens in the coming months.
Virtual Community
We have much admiration for how our wonderful creative community has been sharing ways to reach children with stories, and reach writers, illustrators, and educators, too. We've put together several ways to connect with all of you virtually.
#HFGathers
A series of free online webinars to do our part to keep our community connected:
Monday Meditation: On Mondays, Laurie Calkhoven leads a writer's meditation plus writing prompt.
Writer Chat: On Wednesdays, Sarah Aronson hosts a writer and gives a writing prompt.
Illustrator Ideas: On Fridays, Shadra Strickland hosts an illustrator and gives an illustrator prompt.
---
30 + 10: Free Craft Webinars with Optional Paid Critiques
A series of online sessions that we're calling "Find the Good: 30 + 10 of Craft & Critique."
The 30:
One of our faculty will lead a free 30-minute craft webinar, open to everyone.
The 10:
Following the free webinar, we will make available at least 10 opportunities to receive a written critique from the webinar leader. The critiques will cost $75 and will be on a first come, first served basis.
Sincerely,
George, Alison, Jo, and the entire Highlights Foundation Team