Summer Camp: What to Expect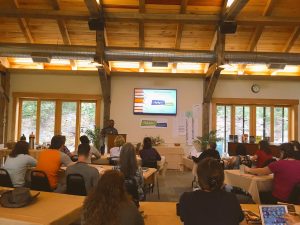 It's our largest, and longest, workshop of the year. It has a little bit of everything: s'mores, mentorship, writing exercises, ice cream, faculty keynotes…it's a not-to-be-missed experience! We're still confirming faculty, but here's a look at what you can expect.
Blog posts about Summer Camp:
Carnival, Summer Camp, and Carolyn Yoder: Or why you need to find a creative mentor
All you need to know about Summer Camp mentorship.
Summer Camp Reflections
A look back at the 2016 Summer Camp highlights.
Looking Forward (and Backward) to Summer Camp
Some of our faculty share their childhood camp memories.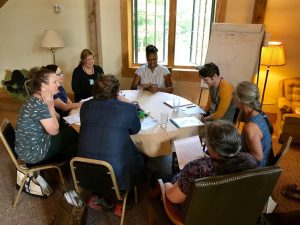 Summer Camp Scenes
A gallery of photos from Summer Camp 2015.
Jill Mitchell: A Happy Camper
One camper's personal experience.
Summer Camp by the Numbers
A visual look at Summer Camp.
To give you an idea of how much info you'll learn, this is a list of last year's workshops:
Waking the Inner Voice: It's Time, Patti Gauch
Dream, Dare, Do—Writing Takes Vision, Courage, and Energy, Each to the Fullest, Peter Jacobi
Creating Character, Meg Medina
Picture Book as an Act of Mischief: Bringing the Right Voice & the Right Play to a Picture Book, Patti Gauch
Propulsive Language: Making Stories MOVE, Lamar Giles
Creating a Sense of Place, Mitali Perkins
Picture Books, Shadra Strickland
Minor Characters and Transitional Scenes, Part I, Jan Cheripko
Writing is Re-writing: Maximizing Revision, Lamar Giles
Beginnings & Endings: Pathways to the Reader's Mind & Heart, & Gaining
Welcome Entrance, Peter Jacobi
Writing from the Sense (with a sense walk), Jillian Sullivan

Thursday evening picnic.

Radial Plotting: Brawl with your plot from the inside out, Alison Green Myers
Dialogue Busters: Crafting Conversation in Fiction, Mitali Perkins
Literature, Lessons, and Life: How the Desire to Write One Good Sentence Pursued Me, Jan Cheripko
JUST FICTION:Writing Race, Culture, and Power in Children's Books: Mitali Perkins
Have You Scene This: Scene Writing Exercises, Lamar Giles
The Power That Comes with Information, the More and the Richer, Peter Jacobi
What Does Your Character Desire? Jillian Sullivan
Submission Basics: How to Start and End Your Query Letter, Alison Green Myers
The Importance of the Page Turn, Lindsay Barrett George
What I Really Want to Write About: Finding Stories That Matter, Meg Medina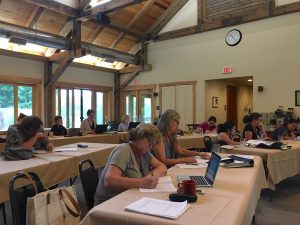 Lastly, here are some nice things previous attendees have said:
"Summer Camp at the Barn exceeded my expectations!"
"I don't know how you gathered this group of faculty, but each one was generous, kind, and so supportive. I have never felt more inspired."
"Honestly, the entire experience was an incredible gift from beginning to end. The attention to detail from the welcoming staff and Highlights family simply warmed my heart and soul."
"This was a topnotch workshop."
"Everything at the camp is wonderful. The people, the natural beauty of the surroundings, the camaraderie. Just awesome!"
Posted on: November 10, 2017
Tags: summer camp