Getting to Know Your Novel: What to Expect
Last year, we added a different kind of workshop to our offerings, an online course PLUS onsite retreat called Getting to Know Your Novel, led by author and writing teacher Sarah Aronson, with support from co-fauculty Cori McCarthy. It was a big success, and so we're offering it again this year. Here's what the schedule looks like:
Part 1: Weekly Sessions in a Web Classroom
January-February
You'll attend weekly sessions in a web classroom with Sarah and Cori. They will:
Outline ways to deepen your understanding of plot, character and revision.
Host online discussions and respond to questions.
Post writing exercises, lectures and videos.
Check in with each student via email weekly, to answer questions and give direction.
Schedule two phone calls with each student during this period.
Part 2: Writing and Revising On Your Own
February-March
You'll apply all you learned in Part 1 to your novel–finishing up your draft, or your revision, in preparation for your in-person visit to our Retreat Center.
Sarah and Cori will be available via phone or email to answer further questions and offer support.
By March 15, you will submit up to 50 pages of your novel, plus a chapter-by-chapter synopsis, so that the team can get ready for your in-person critique.
Sarah and Cori will be reading up to 50 pages and your synopsis.
Part 3: In-person Workshop at our Retreat Center
April 15-19
Bring your novel to our Retreat Center, where the team will mentor you through your next round of
Each morning will kick off with a general session of lectures and writing exercises.
Afternoons are reserved for writing and one-on-one critique sessions.
Each night will end with a chance for you to share your work with faculty and peers.
Editor Heather Alexander will join Sarah and Cori for this part of the workshop.
Alison Green Myers wrote a great blog post about last year's experience. You can read it here.
Also, here are a few blog posts by and about lead faculty Sarah Aronson:
Faculty Interview: Sarah Aronson
Listen for Stories
Highlights from Highlights!
Eulogy Virtues
Greetings from Highlights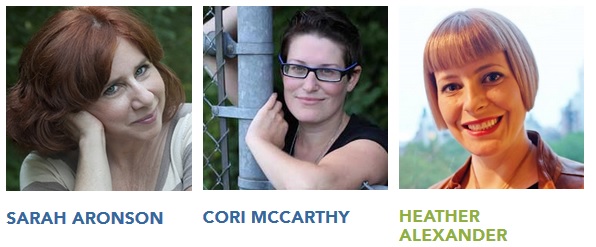 Posted on: November 8, 2017
Tags: novels, workshop spotlight