Faculty Spotlight: Edith Campbell will be a special guest at Historical Realities in Fiction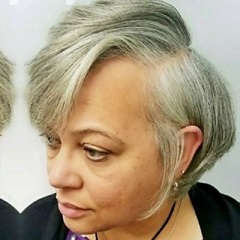 We're thrilled to announce that librarian and educator Edith Campbell will be a special guest at our upcoming workshop Historical Realities in Fiction for Children. Edith will join faculty members Donna Jo Napoli and Marilisa Jiménez García to work with attendees to build an understanding of the role of writing stories to process historical narratives.
Edith is an assistant Education Librarian in the Cunningham Memorial Library at Indiana State University. She currently serves as the Indiana State Ambassador for the United States Board on Books for Young People and is a member of the 2018 Michael L. Printz Award Committee. She is on the Advisory Board for the Research on Diversity in Youth Literature journal. In 2016, she served as a Faculty Fellow to the ISU Faculty Center for Teaching Excellence's Multicultural Curriculum Learning Community. She is a past member of the WNDB Walter Award Committee, YALSA's Best Fiction for Young Adults selection committee and the CYBILS Nonfiction Awards committee.
Here's the preliminary schedule for the workshop:
Day 1
Afternoon
A optional tour of Highlights for Children and Boyds Mills Press.
Arrival and check in.
Evening
Appetizers & dinner.
After dinner: Introductions and welcome.
Day 2
Morning
Breakfast.
Getting Yourself to the Place, Donna Jo Napoli.
Generative Writing on the Senses, Donna Jo Napoli.
Afternoon
Lunch.
Twenty minute one-on-one sessions/Free writing time.
Historical Fiction as a Counter to Historical Erasure, Marilisa Jiménez García.
Evening
Appetizers & dinner.
After dinner: editor Q&A.
Day 3
Morning
Breakfast.
Writing Stories to Help Develop Historical Narratives, Marilisa.
Research, Donna Jo.
Your Book in Conversation: Readers and Reviewers, Edith Campbell
Afternoon
Lunch.
Small group workshopping.
Evening
Appetizers & dinner.
After dinner: S'mores and read alouds by the fire .
Day 4
Morning
Breakfast.
Generative Writing on Openings, Donna Jo.
Q/A facilitated by Alison Green Myers.
Afternoon
Lunch and farewell.
Posted on: July 27, 2017
Tags: 2017 workshops