The Highlights Foundation: Committed to Your Creative Life
This week, we held a conference call with our Program Committee for our proposed 2018 lineup. It featured quite a nerve-wracking audience of gifted writers, illustrators, and editors in the field of children's books. At least it was a conference call and they couldn't see the coffee stain on my white shirt (from a rushed morning drop-off) or my hands flying from my script for the pitch to my notebook where I wrote all the names, dates, and suggestions the committee offered. I hope all they could do was hear the excitement in my voice as we prepare for another great year at the Highlights Foundation.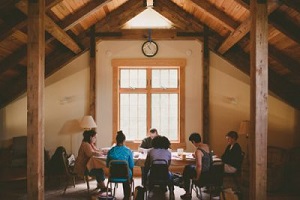 What an honor it is to collaborate with a team of people so focused on the craft of children's book creation. All are so passionate about getting it right – for the writers and illustrators who visit our campus, yes, but more importantly, for the children who will one day consume the books created at the Barn. Two words appeared again and again in the notes I took from our meeting: community and commitment.
To me, these words are at the heart of all the decisions we make at the Foundation. What a gift, then, to hear members of the Program Committee use these words to describe us.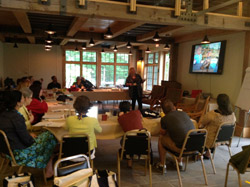 We are committed to our mission: Improve the quality of children's literature by helping authors and illustrators hone their craft. We are committed to providing our writers and illustrators with a top-notch experience. Committed to cultivating new talent in our faculty. Committed to growing our scholarships and grants to offer more assistance to more aspiring children's book creators.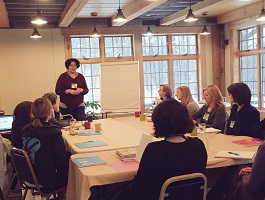 We also see the commitment that you have made to us. You – the story creator, brave enough to trust us with your dream. You make a commitment to your craft by attending our workshops. This takes time, money, and dedication. Thank you for making this commitment to us. And for those who have yet to visit the Foundation, we honor your commitment to the craft by sharing our writing tips and our passion for children's books. We hope to see you on campus soon.
While the 2017 programs are in full swing – welcoming verse novelists, graphic novel creators, and our Capturing Character group, we keep looking toward the future. To our Program Committee, a special thanks for listening to the 2018 pitch and for reminding us all of our special commitment to the craft.
Posted on: June 5, 2017
Tags: Highlights Foundation