The Key to a Successful Presentation: Listen to Your Audience
We'd like to thank Jan Cheripko for this blog post.
When I first took Crafting Successful Author and Illustrator Visits, led by emeritus faculty Peter Jacobi, I was, like most who sign up for this workshop, understandably nervous. Questions flooded my mind:
"How will I measure up?"
"Can I do this?"
And the most pressing one for me — "Is he going to change me into a phony puppet?" 
What I discovered instead was that Peter's philosophy was exactly what I needed. He cares most about presenters being their authentic selves. Peter coached me on ways to give my all to my audience, because they deserve all of my energy, my effort, and my commitment. In essence, he was telling me, "Don't hold back!" He guided me, patiently but firmly, into sharing what I think is important with others.
Over the years, I've had the privilege of speaking at dozens of national, regional, state, and local educational associations throughout the country and abroad, as well as many school visits. My overwhelming sense of these experiences is one of humility. Peter's training helped me learn techniques to better express my ideas, but far more importantly and very subtly; I also learned how to listen.
Peter spent a great deal of time at the workshop talking about our intended audience. Giving my all to an audience meant that I truly had to understand their needs, which may be what is said in the contract from the school where I was set to visit. More often, though, it wasn't written in the contract, but rather given to me in what the teachers said.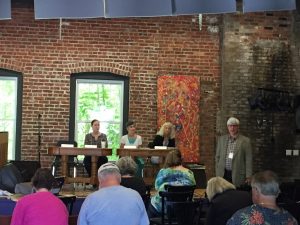 I thought of Peter's coaching last year when I was speaking to a group of educators at Michigan Reading Association in Detroit. These were a dedicated, compassionate team of teachers faced with truly overwhelming challenges. I listened and learned so much from them. Many years ago, when I arrived at a coal-mining district in West Virginia just weeks after the community had buried several miners who had been trapped in the Sago mine disaster, I wondered just what I had to say to these people suffering through such a crisis. What I had to say wasn't as important as listening to their needs. Professional presentations at reading associations are an opportunity for writers to listen and learn more about the children and young adults that they are writing books for. Public speaking takes on a deeper purpose when we are guided by the needs of our audience.
I've had the great fortune to have a few books published, and the greater fortune to teach for many years, working with teens. I get very excited about sharing ideas about literature and writing. I used to think that "sharing ideas" meant me expostulating. I've come to see that sharing really means the back-and-forth of conversations about important topics. Speaking with educators has provided me with remarkable opportunities for sharing ideas — I'm honored that I had the chance to listen to them and can create art for the students that they champion.
Posted on: March 13, 2017
Tags: author visits, cheripko, faculty guest post