Behind the Scenes with a Bookseller: Dave Richardson
At our workshop, Everything You Need to Know About Children's Book Publishing: A Crash Course, our good friend Dave Richardson sometimes stops by to talk about the role of a bookseller, and how beneficial a relationship can be to new writers and illustrators. Dave works at The Blue Marble Children's Bookstore. For those of you who haven't had the chance to visit this indie bookstore located just south of Cincinnati, it is like stepping inside your favorite children's books. You'll visit the Great Green Room modeled after Goodnight Moon, the teen room filled with the very best young adult books – many signed by authors – and you'll experience the Secret Garden area, where you can read your new books surrounded by trees and flowers.
Dave brings the authenticity of his store with him whenever he travels to speak. We are eager to hear Dave this year, when he will talk about his role in the marketplace. He will share how writers and illustrators can connect with booksellers, including how to approach a bookseller and what strategies work for getting a buyer's attention. In addition, Dave has a vast knowledge of author/illustrator book events and will guide our Crash Course attendees on ways to write proposals for in-store programs and book signings.
As we create books for children it is important to read and study the work of other writers and illustrators. Dave will bring along a wide variety of genres and materials to share with the group during Crash Course. He is gifted in working with new writers as they seek resources and titles.
---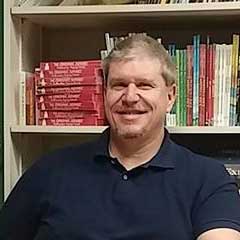 Dave Richardson is book buyer and accounts manager for The Blue Marble Children's Bookstore, and a former junior high language arts teacher, former author of a regular book review column for Reading Today (put out by the ILA), and current instructor in children's literature at a local college in Cincinnati, OH. He also, when needed, lends his editorial skills to Wild Iris Press as a freelancer. His writing has appeared in Highlights for Children, Writer's Digest, Family Digest, Spectrum, and other periodicals and electronic venues. He has spoken at many regional and national conferences and workshops (including Highlights Foundation workshops) over the years on various topics including writing, reading education, and children's books. He recently served on the ABA's New Voices Award Committee, a group tasked with awarding national honors to new talent in middle grade and young adult writing.
Posted on: February 23, 2017
Tags: 2017 workshops, faculty spotlight