A Recipe from Chef Amanda: Lemon, Garlic, and Rosemary Chicken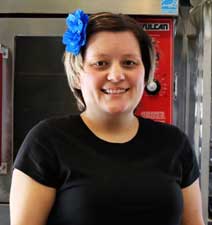 Dreaming of your dinners at the Barn? While we can't send our Amanda home with you, we can share one of her favorite recipes: Lemon, Garlic, and Rosemary Chicken.
Of the dish, Amanda says, "It is so important to source fresh meats and produce whenever possible. This dish wouldn't be near as delicious if I didn't have the free-range, fresh chicken from Quails-R-Us and herbs from Ginny Davit's farm, which is just down the road. I'm a stickler for sustainable food harvested as close to our kitchen as possible. I think it makes all the difference."
Lemon, Garlic, and Rosemary Chicken
By Chef Amanda
Ingredients:
Whole Quails-R-Us chickens (x4 for a large group)
6-8 lemons
A "generous handful" of garlic cloves (When pressed for further details, Amanda said, "Garlic is so subjective. Make sure you have enough, but not too much.")
4-6 sprigs of fresh rosemary
Salt
Pepper
Olive oil
Preparation:
Dry the chicken skin. Preheat the oven to 450 degrees. Transfer chicken to a roasting pan.
Cut lemons in half and squeeze juice on the outside of the chicken.
Place squeezed lemon halves, smashed garlic gloves, and rosemary sprigs inside the chicken. Massage olive oil onto chicken skin.
Dress chicken with a generous amount of salt and pepper. Finish with a drizzle of olive oil over the entire dish.
Bake at 450 degrees for one hour or until the internal temperature reaches 165 degrees.
Let rest 15 minutes before carving. Serve with rosemary and lemons.
If you missed Amanda's last guest post, please click here to see her Thyme and Orange Juice Roasted Beets. Amanda hopes to see you all at the Barn this year!
Posted on: January 19, 2017
Tags: recipe, The Experience