Our top ten blog posts from 2016
We're taking time this week to reflect on 2016. In case you missed them, here are our top ten blog posts:
10
Say Hello to New Friends at the Foundation
George Brown joined us! His enthusiasm + Kent's vision = more Foundation magic! When you join us for your 2017 workshop, you might find George seated next to you at breakfast.
9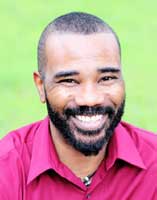 Faculty Interview: Don Tate
Don talked to us about his career, his newest work, being mentored and mentoring others. We admire his energy and his commitment–and we're SO pleased he's coming back to lead The Journey: Your Path to Publication for the second time. He's also on the faculty for our new Master Class in Writing Nonfiction for Children and Young Adults.
8
Guest Post: Barbara Krasner–4 Reasons Why I Return to Boyds Mills
Former attendee and faculty member Barbara Krasher shares that it's the camaraderie, expert faculty, retreat setting and "The Highlights Way" that keep her coming back. To entice YOU to come back (or come for the first time!) we've planned over 40 workshops for 2017.
7
Guest Post: Pamela S. Turner–7 Ways to Make Your Nonfiction Stand Out
How can you make your writing stand out? What does it take to grab the attention of agents, editors, reviewers, and award committees? Are you ready for our 2017 workshop, Master Class in Writing Nonfiction for Children?
6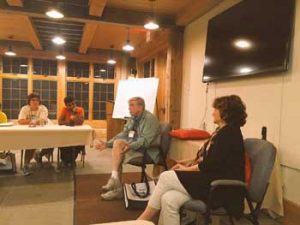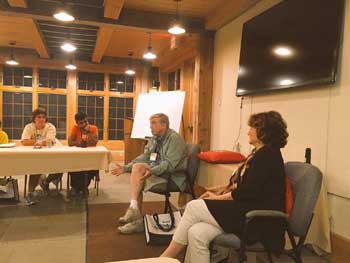 Guest Post: Rona Shirdan–My Artist-in-Residency Experience
Rona says of her experience with Jerry and Eileen Spinelli: "Eileen's poetry and picture books paint wonderful stories of the love and faith that flow from her kind spirit. Jerry's mastery of words weaves life lessons that stem from experiences and memories of his youth. Both authors are talented, generous with their time, and humble. The time spent with them was special." To have your own experience, check out our 2017 Artists-in-Residence.
5
Guest Post: Kristy Dempsey–Taking a Leap
Kristy writes: "I am reminded of my writing life and how a sense of community has contributed to my own willingness to take risks and be vulnerable. This business is fraught with opportunities to second-guess myself: rejection, waiting, criticism, and lack of responses. I am sure I would not survive without the deep sense of community I've found with other children's writers." Lucky for us, Kristy is coming back in 2017 for Capturing Character: Hear Their Voices.
4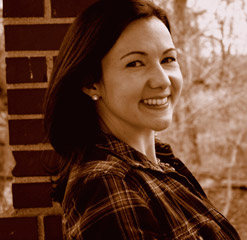 Faculty Interview: Ashley Hope Pérez
We sat down with Ashley to chat about books, her writing process, and the importance of historical fiction in today's marketplace. We are honored to have Ashley lead our Whole Novel Historical Fiction workshop in 2017.
3
Guest Post: Deborah Heiligman–Writing for Yourself and the Reader
Deborah writes: "Sometimes people tell writers not to write for an imaginary reader (or your children or grandchildren), but to write for yourself. I think that's excellent advice, up to a point…but at certain stages it is extremely helpful to think of your reader, someone you don't know, someone who doesn't love you." For more writing advice, you might consider this 2017 workshop: DIY Repair Kit for Writers: Get Your Fixer-Upper Ready to Sell.
2
Guest Post: Carnival, Summer Camp, and Carolyn Yoder: Or why you need to find a creative mentor–Alison Green Myers
Alison shares about the week Carolyn Yoder shaped her as a writer; at Summer Camp, "nearly fifty pages of a middle grade novel spilled out…under Carolyn's direction." If your writing needs some similar encouragement, there's plenty of room at 2017 Summer Camp.
1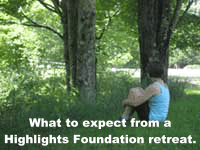 What to Expect From a Highlights Foundation Retreat
Don't take our word for it–here are some thoughts from writers who have shared their experiences. Once you've read their words, head on over to book your Unworkshop or 2017 workshop.
Posted on: December 29, 2016
Tags: 2016 workshops, resource round-up