New Artist-in-Residency, Matt de la Peña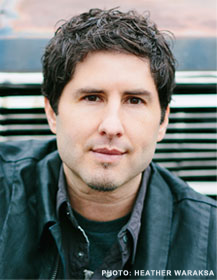 Matt de la Peña will join our 2017 Artist-in-Residency Program.
Matt de la Peña
August 23-27, 2017
Matt de la Peña is the author of several novels for teens, including the highly honored Mexican WhiteBoy. Matt's fiction for teens floods his readers with voice and emotion. In his picture books, essays, and collaborations, Matt's writing is likewise full of heart.
In 2016, Matt's second picture book, Last Stop On Market Street, won the Newbery Medal and Coretta Scott King honor for both words and illustrations. In Last Stop, a Sunday morning bus ride fills little CJ with questions. By developing a strong bond between grandchild and grandma, we learn the answer to every question through Nana's love and hope. In addition to writing, Matt is active in the children's book community through school and library visits as well as speaking at national conferences and conventions.
For our complete listing of 2017 Artists-in-Residency please click here.
Posted on: December 16, 2016
Tags: artists-in-residence