Paula Morrow: Remembering Barbara Seuling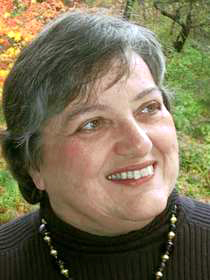 Trying to compose a tribute to Barbara Seuling, I am flooded with memories. It's a shock to realize that we were friends for more than thirty years. We first met at a children's literature festival at Drury College, thanks to our mutual friend Sandy Asher. This led to Barbara's submissions to Cricket Magazine Group and an author-editor relationship that developed into a warm friendship. Barbara was a delight to work with—creative, conscientious, witty, cooperative about revising, and always early for deadlines. Author, illustrator, poet, and editor, she enriched the world of children's literature.
Over the years Barbara nurtured countless young writers. She was a renowned workshop leader, a founding and lifelong member of the SCBWI Board of Directors, and a generous mentor. Once she arrived at the Cricket booth to sign books at a major convention. She stopped in the aisle and pointed to an adjacent booth in amazement. "Look at that poster," she exclaimed. "That book is by one of my writers! We worked on it in my workshop. I knew it had been accepted for publication, but look how they're featuring it!" I think Barbara was more thrilled by her student's success than by some of her own publications.
The anecdote that stands out most clearly in my memory is not about Barbara as an author or editor; it's about Barbara as a person. Early in our acquaintance, I emailed her a question about New York City, where she lived. My daughter, a fledgling singer, had landed her first New York audition and would be traveling there alone. I asked Barbara if she knew a safe and moderately priced hotel. She replied immediately. "Yes, I do. It's called the Barbara and Win home. We'll be out of town, but I'll tell the doorman to give her a key." So for four days, a young woman who was a complete stranger to Barbara had free use of her lovely condo on Central Park West. Such quick and cheerful support of a young artist's career still awes me. It is Barbara's kindness and generosity of spirit that I will always cherish.
—Paula Morrow
Read the Publishers Weekly obituary for Barbara.
Posted on: September 26, 2016