Tanya Bartlett: Never Counted Out
We are honored to partner with Never Counted Out as they work to pair creative mentors with teens. Our upcoming camp will be the first time we have hosted teen writers at the Foundation. We hope that you will enjoy learning about the creators of Never Counted Out, e.E. Charlton-Trujillo and Carrie Gordon Watson. This was originally posted on the Meet at Human blog by Tanya Bartlett. Thanks, Tanya, for letting us reprint it here.
e.E. Charlton-Trujillo and Carrie Gordon – Never Counted Out
"I want them to know, without hesitation, they matter. What they think and how they choose to translate it matters, that they can absolutely change the conversation about how others have counted them out."—e.E. Charlton-Trujillo
"Every young person deserves to find their voice and deserves to be heard. Every single one."—Carrie Gordon
If you perform an internet search for "risk factors for at-risk youth," you will be met with site upon site, list upon list of problematic risk factors such as anxiety, early puberty, poor social skills, divorce, marital conflict, peer rejection, poverty, etc. However, if there are risk factors, then there are also protective factors for at-risk youth. According to youth.gov, some social and cultural protective factors include the following:
Presence of mentors and support for development of skills and interests
Opportunities for engagement within school and community
Positive norms
Clear expectations for behavior
Physical and psychological safety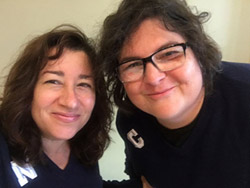 Never Counted Out, created and developed by author/filmmaker e.E. Charlton-Trujillo and author Carrie Gordon, is a nonprofit organization working to provide these protective factors to teenagers who are at risk of emotional, behavioral, and/or mental disorders. Charlton-Trujillo and Gordon define Never Counted Out as a creative revolution, a way to connect at-risk teenagers with creative mentors as a means to combat pain with expression and voice. It is a way to count at-risk teenagers back in through art and creativity. Read on to see just how Charlton-Trujillo and Gordon are counting teens back in.
How did the idea for the Never Counted Out Camp come about?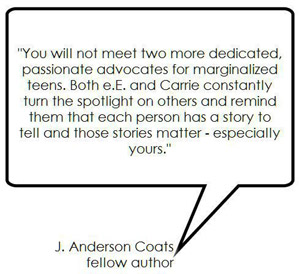 Charlton-Trujillo: It is an extension of the workshops I've been doing with youth around the country since my book Fat Angie released in 2013. When I visit schools or after-school programs, we do a lot of wordplay. Students then write based on the prompt If Someone Only Knew. The responses consistently blow me away. We knew that we needed to broaden the outreach via intensive writing/art workshops, but the camp idea was really the Big Dream version of that and seemed pretty far down the road.
Gordon: Then e's feature documentary, At-Risk Summer, screened at the National Council for Teachers of English (NCTE) in 2015. It was there that we were approached by a Highlights Foundation representative who had been in the audience. Seeing e's connection with these kids in community after community and then hearing us speak following the movie, they were supremely moved to want to see NCO (Never Counted Out) Camps realized.
Never Counted Out is a way in which you're actualizing upon your common humanity for others. What do you hope to accomplish with Never Counted Out in the short-term future?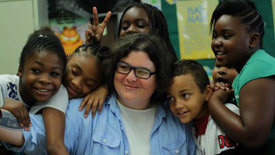 Charlton-Trujillo: One of our main short-term goals is our Creative Mentorship camp. Camp was initially a long-range goal but is now happening by year's end, thanks to the support and partnership of the Highlights Foundation. And I think we can do big, potentially long-term impact with these Camps.
Gordon: It's important to note here that we have an ongoing initiative called If Someone Only Knew, which is an online youth literary collective. We have been accepting submissions and will continue to do so, ultimately getting the art and narratives of these young folks into print. e.E has believed from the beginning that young people need and deserve a safe place to share their writing and art. And of course, we will continue distributing book donations to programs and schools that don't have, or have lost, access to books for the kids they serve.
And in the long-term future?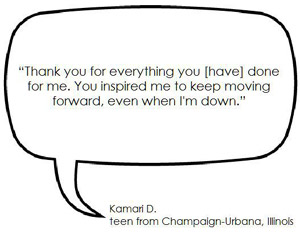 Charlton-Trujillo: When we look to the future, we plan to strengthen our database of programs serving at-risk youth, so we can continue to bridge the gap between writers and artists and youth around the country. These artists will provide creative mentorship to youth by donating one hour of time per year in a program of their choosing. I have witnessed the impact of something as short as a single hour of empowerment. It can mean everything in a kid's life.
Gordon: We hope that five or even 10 years from now, we'll have a place for young people to congregate, a safe space for creativity and discussion that reflects their personal journeys and inspires them to live life feeling seen and heard.
What is it that drives you to help at-risk youth?
Charlton-Trujillo: There is something indescribable that happens when working with kids on the fringe. They are warriors – outsiders – who have often had their potential and voice reflected back to them by warped societal expectations, kind of like a funhouse mirror. It's all distorted, and their perception of themselves can also be that way. And I get how they got there, because I myself have had a similar experience. I know what it means to fight not only the outside world's idea of who you are but also your own, distorted version.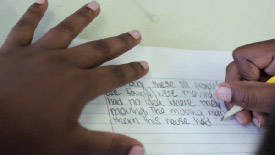 So I am very driven to enable them to channel their voices and be heard. I invite them to be Creative Revolutionaries with their words – their art. To take reasonable risks – to harness their narratives. I want them to know, without hesitation, they matter. What they think and how they choose to translate it matters, that they can absolutely change the conversation about how others have counted them out.
Gordon: I was an at-risk youth. I was that kid that had mad potential that a few of my teachers recognized, but [I] came from an environment with zero support. And I had no idea that writing could be anything besides this thing I did in private to deal with my challenges in family and life. I totally get the importance of adults showing up for young people and creating safe spaces for creative expression.
What keeps you working toward your goals of helping at-risk youth?
Charlton-Trujillo: It's simple: the kids and their absolute need and right to be heard. Seeing them bravely tell their story and share their narrative. Whether it is fictional or autobiographical – it's in the form of novels, poetry, flash fiction, or anything in between.
Having the privilege of empowering them to create their own stories, experiment with how narrative is formed … who wouldn't want to be a part of that kind of celebration?
Gordon: Every young person deserves to find their voice and deserves to be heard. Every single one.
How can others help you with Never Counted Out?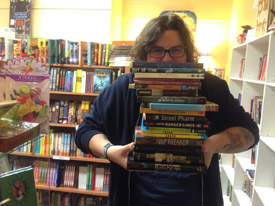 Charlton-Trujillo: Any writer/artist who can donate services to help us raise the funds for our camp series would be a hero. Highlights Foundation has been incredibly generous, but a lot goes into the successful execution of something like this.
Gordon: Aside from donating or bidding, the biggest help for NCO in general would be in signal boosting these events on social media. We need to continue to get the word out as widely as possible about what we're doing and why it matters, and for teachers and librarians to continue to promote our If Someone Only Knew initiative to their students. It is an opportunity for kids to have their stories published.
When did each of you make the choice to actualize upon your humanity in service to others?
Charlton-Trujillo: I didn't fully realize that I had the ability to empower young people until a chance encounter with a small-town Texas teen in May 2013. There had been moments … important ones. But meeting that one kid who didn't speak or look at people but had immense creative potential changed the trajectory of my life. Because in the 45 minutes I was with him, he looked up, he spoke, and he smiled. The kid smiled! And I thought, wow, what is this thing about believing in someone…and meaning it? And they get that you mean it, and something somehow changes, in them and you.
Gordon: It's a second chance, in a way, to give young people the things so many of us needed at their age but never got. Things like support. The space to be creative. The opportunity to be seen, to put something positive into the world, to know we matter. When we know we matter, we have a bigger investment in being here, in staying here, and in reaching for our own version of better and more.
Is there a specific person that serves as inspiration for your work?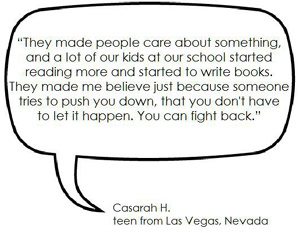 Charlton-Trujillo: There's not a single person. It's definitely the kids. It's always the kids. They are honest and real, and that inspires me. Beyond that, I think two of my late best friends hold a very special place in all this. One in particular, author Linda Sanders, believed so deeply that I could emerge from my own struggles of loss and a volatile upbringing. She believed in my novel, Fat Angie, and said, "Finish the book. It's going to change young people's lives." She died shortly before I set out on that journey across America in 2013, but she was right. It did change kids' lives, so I carry her wisdom with me. I keep it close.
Gordon: Every kid who is willing to get vulnerable and open up, to show me a part of their world or their heart, whether it's through art or conversation, becomes an inspiration to me.
What is your advice for at-risk youth who feel lost or on the wrong track?
Charlton-Trujillo: There are people waiting in line to tell you that you "can't." It's almost like their favorite word. They want to limit you. You have made it so far. Now keep going, because the "can" is attainable.
Gordon: Allies are out there – people who want you to be OK, to survive, to thrive. They may not be who we think they should be – it's not always our family – so don't be afraid to reach out. And it's OK to feel your feelings, but it's equally important to express them (often through art) so you're not holding it all in.
How can we as humans, in a world marked by many divisions, find common humanity?
Charlton-Trujillo: Listen. Don't just hear. Truly listen.
Gordon: Listen to each other. Make eye contact. Feel your feelings without being afraid of them. Notice. Choose. Act.
Call to Action
If you are an author, illustrator, or artist, please consider donating the following items for auction (donation deadline Sunday, July 31st, 2016. Email donation info to: CampNeverCountedOut@gmail.com):

manuscript (up to 10 pages) and query critiques
signed books
original artwork/illustrations

Help at-risk youth attend Never Counted Out Camp for FREE by participating in the online auction from Wednesday, August 10th to Saturday, August 13th, 2016.
Help empower at-risk youth by providing more access to books. Donate books to Never Counted Out.
Make a financial donation to enable the purchase of books for at-risk youth.
If you are an artist, illustrator, or author, we ask you to join the Creative Revolution by volunteering with Never Counted Out.
Please share information about Never Counted Out on social media.
If you are an educator or librarian, please participate in and promote the If Someone Only Knew initiative with students.
Posted on: July 21, 2016
Tags: 2016 workshops