Barb Riley: Un-Busy at the UnWorkshop
Writer Barb Riley recently visited us for an Unworkshop. Here's what she had to say about it:
"If you want something done ask a busy person."—Benjamin Franklin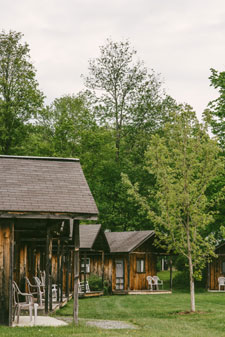 Excellent advice from Ben, but what if you're the busy person?
That's me. I'm the busiest person I know. On a normal day, I do my career day job, my fun second job, and my MBA class homework. On weekends I'm volunteering, or carting my daughter to volleyball, or working on house renovations. I read before bed to wind down and sometimes if I'm lucky, I have time to write a sentence or a scene.
See what I did there? Over the years, writing fell to absolute last on my list and it's one of the activities I enjoy most! Unfortunately, writing a novel isn't a task to be delegated. My teenager just rolls her eyes when I try.
So there I was, in a rut, struggling to place my dreams above everyday life. I wanted to make my publication goals a high priority, but how?
I asked myself, what's a busy person to do when the task can't be delegated?
I can tell you what I did…I ran away.
Just kidding.
Kind of.
I contacted Jo Lloyd and booked my second Unworkshop trip at The Highlights Foundation. A long weekend on my own, for myself, far away from the distractions of home.
On the plane ride I wrote out my goals for the trip. I needed to come home with three edited chapters and 10,000 new words. I had three full days to write.
Linda picked me and another gal up at the airport and drove us to camp. I'll admit, I was apprehensive at being on my own. Could I really, finally, actually focus on writing? Would I survive three days without a schedule?
Thankfully, the camp came to the rescue. I did have a schedule! Breakfast at 7:30, lunch at noon, appetizers at 5:30, and dinner at 6:00. Oh, and a 24/7 ice cream bar. No joke. Amanda even warmed peanut butter to drizzle over my chocolate scoops.
My carpool pal was in the picture book workshop going on, along with 20 or so others. We shared mealtimes and common areas. I spent one evening in the lodge's main room, eating Cheeze-its, drinking Coke, and writing with another Unworkshopper. Ed cranked out 10,000 words during his stay, and I was determined to meet my goals too.
My trip was perfect. I stayed up late and slept in. I opened the windows to let in fresh air and I wrote in my room. I took morning walks and took walks after dinner with my wine.
The Highlights Foundation camp is like an old friend, and saying goodbye was tough. When Argyris drove me to the airport, I was bursting with pride and feeling great about my writing. I left camp with three edited chapters, 10,400 words, new friends, and motivation to keep writing every day.
My husband asked why I didn't stay in a random hotel room locally, but he's not a writer so he doesn't get it. Visiting the camp was like having my own personal writing retreat.
A hotel wouldn't give me the giddy feels I get spending time with other writers. A hotel wouldn't give me motivation to work harder, to share my daily progress with the others. A hotel wouldn't give me ALL INCLUSIVE gourmet meals and wine. And ice cream. Don't forget the ice cream.
I'm already planning my next Unworkshop.
See you again soon, Highlights!
—Barb Riley, writing as Riley Darkes
Posted on: June 27, 2016
Tags: attendee guest post, personal retreats, Testimonials, The Experience