Barbara Krasner – 4 Reasons Why I Return to Boyds Mills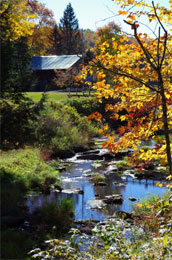 I've been attending Highlights Foundation workshops in Boyds Mills, PA since 2001, a year after I attended Chautauqua. I've been leading workshops there since 2005. As I make the final turn along winding roads to the property, I feel like I'm returning to summer camp. But it's even better than that. Here's why:
Camaraderie. I think I've been involved in some 30-40 Highlights Foundation workshops in some capacity. I've met writers who shared a passion for history, nonfiction and historical fiction. Since several of us met at Carolyn Yoder's Historical Fiction workshop in 2002 and reconnoitered at Carolyn's first Alumni Retreat in 2005 (or 2006, we don't actually remember), we formed our own network. Though life may get in the way sometimes, our friendships steady us.
Access to the experts. Where else but at these Highlights Foundation workshops could I hobnob with executive editors at agent-only houses in the kitchen? Here I don't have to vie for attention with 700 other conferees. The instructors are experts in their own rights. Among the workshops I've taken, I've learned from Rich Wallace about the YA novel, Patti Gauch about the heart of the novel, Candy Fleming and Eric Rohmann about picture books, and the indomitable Carolyn Yoder about biography and historical fiction.
A retreat setting. A craft I made at the dining room there brought me my first published piece in Highlights. An article I wrote in the main house brought me my first Highlights article. Having the time and place to write opens up the senses to create in a way that just isn't possible at home. My favorite part: I don't have to figure out what to cook for dinner.
The Highlights Way. Unlike other workshop settings, here there is a value system that nurtures the fledgling and the seasoned writer alike. Faculty take their roles seriously and don't bunch up to converse among themselves. Staff personnel strive to ensure a productive and pleasurable experience.
The Highlights Foundation workshops have come a long way from three offerings in the inaugural year. There's a workshop for everyone. It takes all my willpower to not sign up for every one.
Posted on: March 4, 2016