Choosing Technology for the Youngest Learners
Natalie Granger is a Pre-K teacher at Pennsylvania's Wyoming Seminary. She was a guest at our Power of the Picture Book workshop in 2014. She came for the books and talk of visual literacy but got more than she bargained for when our literacy workshop crossed paths with Warren Buckleitner's Digital Storytelling workshop, Dust or Magic.
Natalie shares what the experience was like for her with the educational app gurus below. Thanks, Natalie!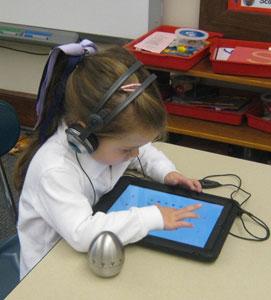 In today's world, technology escapes no one, not even the youngest learners. As luck would have it, I love technology, and I am an early childhood teacher. Instituting meaningful, appropriate technology for my students is an ongoing process. While attending a Highlights Foundation Retreat in 2014 our dinner was delightfully crashed by a bunch of children's app developers. Our group included elementary and middle school literacy teachers with varied technological comfort levels.

After dinner, we meandered over to the tables where the app crew had pulled out their computers and tablets and gadgets and asked a few simple questions. They were kind enough to answer, which of course, triggered more questions…and feedback…and explanations…and demos…and idea sharing…As intrigued as we were in learning about the creation and development of apps, they were equally interested in our experiences, ideas and suggestions. An impromptu PLN filled The Barn that night along with questionable singing while Warren Buckleitner played the guitar into the wee hours. Many of the apps and strategies I use in choosing exceptional apps came from that memorable weekend.
---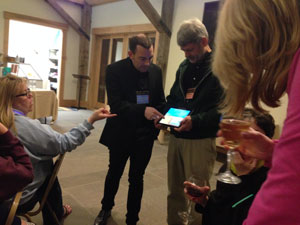 Posted on: February 11, 2016
Tags: 2016 workshops