Picture books: a song-and-dance between words and pictures
Lindsay Barrett George, a frequent guest and faculty member at the Barn, answers a few questions for us about creating picture books: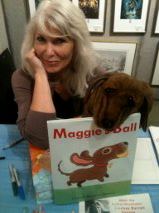 What's so special about picture books?
A picture book is a book for young children with words and pictures—but it is more than just that. A picture book is about the turning of pages and how the pictures follow each other. If I'm 4 and I can't read, what will make me turn the pages? Not the words – the pictures.
Is there a secret to creating an outstanding picture book?
Great picture books have a theme running through them that holds the words and pictures together. It might be a border treatment. It might be the balance between white space and type and art. Somehow, there's a visual look to the book that makes it work the way it does.
How do you create your picture books?
A lot of my ideas come to me as graphic elements. I think visually, and work around that to develop character and narrative. The image holds the narrative together.
Why do you create picture books?
The reason I make picture books is because I want a young child to say "I LOVE this book!
It's about that emotional connection that I make with that reader.
Posted on: February 5, 2016
Tags: faculty spotlight, picture books