Picture books: a song-and-dance between words and pictures
Lindsay Barrett George, a frequent guest and faculty member at the Barn, answers a few questions for us about creating picture books: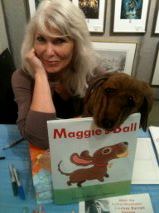 What's so special about picture books?
A picture book is a book for young children with words and pictures—but it is more than just that. A picture book is about the turning of pages and how the pictures follow each other. If I'm 4 and I can't read, what will make me turn the pages? Not the words – the pictures.
Is there a secret to creating an outstanding picture book?
Great picture books have a theme running through them that holds the words and pictures together. It might be a border treatment. It might be the balance between white space and type and art. Somehow, there's a visual look to the book that makes it work the way it does.
How do you create your picture books?
A lot of my ideas come to me as graphic elements. I think visually, and work around that to develop character and narrative. The image holds the narrative together.
Why do you create picture books?
The reason I make picture books is because I want a young child to say "I LOVE this book!
It's about that emotional connection that I make with that reader.
Picture book workshop offerings for 2016:
Creating Picture Books, March 20-24
Faculty: Robert J. Blake
If you have a passion for picture books and a desire to write and/or illustrate them, this workshop is an opportunity to work directly with an award-winning writer and illustrator.
Color, Light, Line, and Texture Hands-on Workshop, March 31-April 3
Faculty: Denise Fleming, Ashley Wolff
Writers, artists, teachers, librarians, and art lovers: everyone is welcome to come learn new techniques with some magic thrown in!
PB&J: Picture Books and All That Jazz, June 10-13
Faculty: Darcy Pattison, Leslie Helakoski, Kelly Bennett
Dig deep into the many layers that create strong creative stories and learn structure, word choice, plot, voice, style, rhythm, layout, rhyme, audience, tone, and sound.
Super Children's Book Boot Camp, July 7-10
Faculty: Pat Cummings, Denise Fleming, Floyd Cooper, Steve Light
Special Guests: Patti Ann Harris, Marcia Wernick, Alison Green Myers, Namrata Tripathi
Work with established authors and illustrators to finish your picture book and get it ready for submission.
Perfecting the Picture Book Text, October 5-9
Faculty: Kathryn Erskine, Kristy Dempsey
Picture books are incredibly fun to create—but the marriage between text and pictures must begin even before the text is complete. How can you see a story in pictures in order to collaborate with an illustrator you have never met?
Picture Book Illustration: From Conception to Birth, November 4-6
Faculty: Tim Gillner
This is a down-to-earth, hands-on workshop for the illustrator who's looking for the inside track, packed with valuable pointers and solid advice from an art director with many years of experience working in the trenches.
Posted on: February 5, 2016