Calling all novelists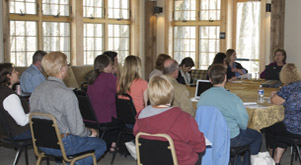 Whole Novel Offerings for 2016:
Faculty: Nicole Griffin and M.T. Anderson
We're still finalizing the details, but we do know the dates (August 21-27) and that several guests are being invited. Limit 8. We can take applications anytime; all our Whole Novel Workshops require applications.
Faculty: Anne Ursu and Laura Ruby
Not their first rodeo here, and they always get high marks. We call it Fantasy Workshop but the official name is: Writing the Unreal: The Whole Novel Workshop in Fantasy and Speculative Fiction.
Faculty: Sarah Aronson, Nancy Werlin, A.M. Jenkins, Jennifer Jacobson
Limit 16. August 7-13. A perennial favorite; has included muzzleloader target shooting and bear watching. And lots of hard work. See details.
Other workshops of interest to novel writers:
Books with Bite Workshop and Retreat: Writing Horror and Haunted Novels
With Nova Ren Suma and Micol Ostow.
The Master Class: The Search for Voice
With Patricia Lee Gauch.
Novels in Verse—More than a Novel, More than Poetry
With Kathryn Erskine and Alma Fullerton.
Master Class in Novel Writing
With Darcy Pattison.
Our Whole Novel Program has been a feature here for quite a few years. Invented by the talented Carolyn Coman, then shepherded by Helen Hemphill, this program runs along with mostly full classes. It was meant to be an in-depth experience to take a novel over the finish line towards publication. It is intense. It fits those who have sweated over a novel or two for a long time, and have learned a lot that they didn't know when they were born. These workshops tend to be longer than many of our programs. This series has the highest ratio of faculty to students and therefore is the most expensive program we run. We pick faculty that have a writing track record, a knack for teaching others, and the heart to care about novel writers just emerging.
Posted on: February 1, 2016
Tags: 2016 workshops