Jill Mitchell: A happy camper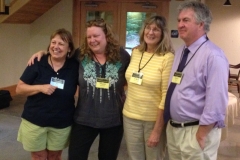 Jill Mitchell of Marstons Mills, Massachusetts, had a wonderful time at our Summer Camp and wrote to tell us so:
Looking for a life-changing experience? Then attending a Highlights Foundation workshop is your ticket. As a retired periodontist seeking unique excitement, I hopped onto my virtual surfboard and headed for the web. Bingo! Up popped the Highlights website and their menu of delicacies suitable for the pickiest of literary eaters.
I chose the 2015 week-long Summer Camp Workshop for Children's Book Writers and Illustrators. The description assured me that I needed to be neither a writer nor an illustrator–phew!–so off I went.
Despite all of the writing gems that were bestowed upon me that week, I am at an embarrassing loss for words to describe the event. I can tell you, however, that it was most certainly life-changing for me. I see the world through new eyes. Ideas for plots, settings, characters, and even fun quirky poetry wave to me wherever I look. I no longer can sleep without a clipboard beside me to record them. The laundry pile rivals Mount Everest, and there is an odd smell wafting from the unwashed dishes. But, despite also gaining the "freshman 5" pounds–the food there is stellar–I've never been happier!
Posted on: August 4, 2015
Tags: summer camp, Testimonials, The Experience