John Micklos: Unworkshops–A Shot of Inspiration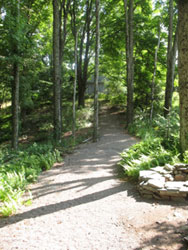 Inspiration and time—two critical ingredients for writers that are far too often in short supply. Last fall I treated myself to a Highlights Foundation Unworkshop, and the results were even better than I dared dream.
I arrived at the Highlights retreat center in northeastern Pennsylvania on a Friday afternoon and settled into a cozy cabin with an ambitious list of projects to tackle. Not only did I make significant progress on most of those projects, but I received a shot of inspiration that allowed me to start (and nearly finish) a new project that wasn't even on my radar.
The Unworkshops provide quiet, unstructured time to concentrate on writing, the company of fellow writers, three gourmet meals a day, comfy quarters, and scenic trails for hiking. For years, I have been wanting to write a counting picture book, but I never found quite the right "hook" that set my creative juices flowing.
That all changed during the Highlights Foundation Unworkshop last fall. As I was hiking one afternoon, I saw the last two leaves hanging tenuously on a tree, and a line popped into my head: "One leaf, two leaves on a tree." I hurried back to the cabin, and by the end of the day I had the basic framework for a simple, rhyming counting book about leaves and seasons.
I shared the draft with some of the group that evening, and they provided helpful feedback. Later, after additional revising, I shared the manuscript with my writer's group in Delaware, and they offered further suggestions. After more polishing, I sent the manuscript to my agent, Erin Murphy, who was similarly excited. In early February she submitted it to Nancy Paulsen at Penguin, who eight days later accepted it for her Nancy Paulsen imprint. One Leaf, Two Leaves, Count With Me will be illustrated by Clive McFarland of Ireland and will come out in 2017.
The Unworkshop provided the inspiration and time to bring this manuscript to life. In fact, I also made good progress on two other picture book projects in those five days, so perhaps there will be even more good news to share in the future! Even before getting the exciting news about the acceptance of One Leaf, Two Leaves, Count With Me, I was promoting the Unworkshop (and all of the Highlights Foundation Workshops) to members of my writers' group and to people I met at SCBWI regional conferences in Maryland.
Of course, I plan to attend an Unworkshop again this year, and I encourage you to do the same. I can't guarantee that you'll end up with a published project, but I do guarantee that you'll get a shot of inspiration and enthusiasm that would be hard to duplicate anywhere else. Thank you, Highlights Foundation, for all you do to support the children's writing community!
Highlights Foundation Workshops cover a wide range of topics of interest to children's writers and illustrators. I have attended several over the years, and I highly recommend them. To learn more, visit the Highlights Foundation Upcoming Workshops page.
John Micklos, Jr. is the author of more than 20 books, several of them published by Boyds Mills Press. Learn more at www.JohnMicklosWriter.com.
Posted on: June 30, 2015
Tags: attendee guest post, micklos, personal retreats, Testimonials, The Experience