Art fun with Denise Fleming and Ashley Wolff
If you've never been to the Color, Light, Line, and Texture Hands-on Workshop, you can check out this schedule from a past workshop, and see what you might be missing!
Agenda for Color, Light, Line, and Texture
Thursday
Afternoon: Tour of Highlights for Children & Boyds Mills Press
Evening: We are going to jump right in with paint, paste, shaving cream and paper to create decorative papers that you will use in your art.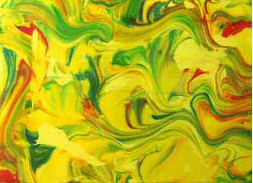 Friday
Morning Yoga
Morning program:
Experiment with gouache – with Ashley
Gouache (gwash) is just watercolor with backbone. We will use it both transparently and opaquely to achieve delicate as well as rich and powerful effects.
Mono-prints – with Denise
Using plexiglass, other plastics, and gelatin along with resists and blocking materials we will create backgrounds for other media or individual prints. We will print multiple layers to create texture and depth.
Afternoon program:
Gouache resist – with Ashley
Explore the qualities of resist mediums to block or displace color. Ranging from frisket, crayon, and gouache, to salt wax and rubbing alcohol, using resists results in all sorts of intriguing effects. Different techniques on multiple layers can make your surface richly varied and atmospheric.
Printmaking – with Denise
Foam meat trays, craft foam, acrylic paint and printing inks along with other materials will be used to create prints that can stand alone or be part of illustrations. We will use various tools to make marks, lines and texture.
Dinner and Talk with Kelley Cunningham, Art Director of Highlights High Five magazine and the new Highlights Hello magazine, including its bilingual edition.
After dinner:
Participants can choose to keep working or join a discussion on styles and techniques. Slide presentation – lino cut – with Ashley
Saturday
Morning program:
Painting with pan pastels – with Ashley
Unlike stick pastels, the pigment in the pans are ready to layer effortlessly with a variety of sponges and blending tools. We will use it to create deeply layered backgrounds, add light into dark, and delicately tint graphite or ink drawings.
Copy transfer – with Denise
Using copier prints (thermal copies) of natural objects and old photos we will use essential oils to transfer these images and create new images.
Afternoon program:
Collage – with Ashley
Using materials and techniques you have explored in the workshop you will create a collage.
Whether you are an Eric Carle minimalist or you layer on everything but the kitchen sink, you cannot fail. Your collage will glow with life from all the samples you made in the workshop.
Mini book quick copy edition/magazine collage – with Denise
Using one sheet of paper divided into blocks you will illustrate your story, poem, or concept using materials from the workshop or magazine collage. Copy the sheet, fold, stitch, cut, and you have a mini book that you can easily print in multiple editions to give to friends.
Dinner
After dinner:
Participants may chose to continue working or join a discussion on techniques and bookmaking. Slide presentation – pulp painting – with Denise.
Fun time will follow!
Sunday
We will have a group art activity, display art created, and share comments and suggestions.
Lunch and goodbyes
Posted on: April 8, 2015
Tags: 2015 workshops