We've added some more 2015 workshops
Here's a post-Halloween, pre-Thanksgiving surprise – a look at more of the workshops we've planned for 2015. We're still adding more, so leave some room on your "what I want for Christmas" list!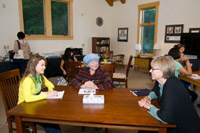 Writing from the Heart, June 21-28
Joy Cowley, Jillian Sullivan and Suzanne Bloom return to guide you on a week-long study of children's books for early readers. With thoughtful guidance and powerful dialogues, you will learn what it truly means to write from your heart with humor, compassion, and childlike wonder.
Guided Retreat with Jillian Sullivan, June 28-July 5
Reawaken your creative life with this inspiring retreat led by Jillian Sullivan. This offers what every writer needs: a quiet time for writing, a secluded place to work, and a feeling of community with fellow writers.
Super Children's Book Boot Camp, September 10-13
Finish your picture book and get it ready for submission with super faculty Pat Cummings, Denise Fleming, Peter Brown and Greg Pizzoli. Designed for authors and illustrators with a picture book project in progress or in mind, this workshop offers a unique opportunity to develop it, polish it, finish it, and present it to top publishing professionals.
Spring Poetry Retreat and Workshop, April 15-19
Do you have a passion for writing children's poetry? Do you want to hone your skills, work in an intimate setting with a published poet, make new poetry friends, immerse yourself in the act of writing poetry, and talk about poetry for a few days? If so, join Rebecca Kai Dotlich and Rebecca Davis and delve into all elements of poetry.
Posted on: November 6, 2014
Tags: 2015 workshops