Welcome Clara Gillow Clark!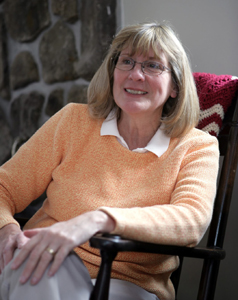 Clara Gillow Clark, the critically acclaimed author of historical fiction for middle grade readers, will serve as writer-in-residence at two of our Unworkshops this fall.
As writer-in-residence, Clara will be available during the week to meet with writers to discuss craft, career goals, and offer manuscript advice.
Clara is the author of the novels Annie's Choice, Nellie Bishop, Willie and the Rattlesnake King, Hawk Hattie, Hattie on Her Way, and Secrets of Greymoor.
The Unworkshops are among the Highlights Foundation's most popular programs. They allow writers and artists to spend their time at the Foundation however they find most beneficial: thinking, dreaming, and creating.
Participants are provided with a cozy, fully furnished, rustic cabin that offers a peaceful place to work. Unworkshops offer writers and artists the perfect opportunity to begin a new project or focus on a work-in-progress.
Clara Gillow Clark's books have received numerous honors, including the International Reading Association Young Adult Choice Award, Bank Street College Best Book, and American Booksellers Association "Pick of the Lists." Her books have been shortlisted for a number of state awards, including the Lamplighter Award, Kentucky Blue Grass Award, and Texas Lone Star Award, among others.
Posted on: September 3, 2014
Tags: faculty spotlight