Writing poetry is quite the magical way for writers to express themselves
Those who write poetry are mighty special people. If you are one of those, you might want to come spend time with your fellows at one of our two upcoming poetry retreats: A Retreat for Poets, August 27-31, and the The Craft and Heart of Writing Poetry for Children, October 15-19.
Eileen Spinelli will be leading A Retreat for Poets. According to Eileen, "writing poetry gives us a wondrous outlet for sharing our longings, our dreams, our playfulness, our past, our fears, our sadness and our joys." Joining Eileen as special guests will be Heidi Stemple and editor Kathleen Hayes.
Rebecca Kai Dotlich and Georgia Heard will be leading The Craft and Heart of Writing Poetry for Children, with WordSong editor Rebecca Davis coming as a special guest. Here's what Rebecca had to say: "Our goal in our poetry workshops is to allow you to uncover your creative side, play with language, observe and see the world with fresh eyes, and to not be afraid to put to paper what your inner child remembers, feels, and wants to say. And that is just a few reasons why writing poetry is quite the magical way for a writer to express themselves. Don't be afraid to dive into poetry, because, after all, it is no less than a form of art, with all its poetic wonderfulness, including wordplay and metaphors. So kick back and prepare to enjoy these days we will spend together, drink it all in as you experiment with words and lines on paper and tap into the creative reservoir that is called "the poet."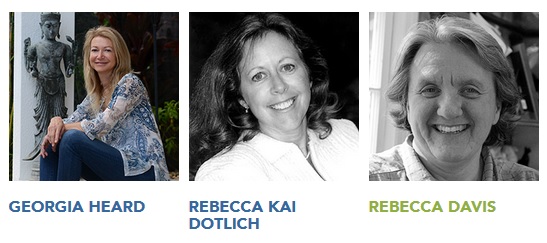 Posted on: June 12, 2017
Tags: 2014 workshops, craft, inspiration, poetry, retreat, special markets, writing tips