Writing the Jewish-themed Story: Fiction, Nonfiction, and Poetry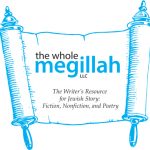 This June, Barbara Krasner will again be leading a workshop for writers of Jewish-themed content. Barbara is an author and educator whose blog, The Whole Megillah, is a fantastic resource for anyone writing Jewish-themed fiction, nonfiction and poetry.
The workshop includes one-on-one and group manuscript critiques, craft, camaraderie and community. In addition, you'll learn what's ahead for Jewish children's literature, what agents and editors look for and best practices in writing Jewish content for children.
Joining Barbara as faculty and special guests are Anna Levine, Debra Hess, Regina Griffin and Rubin Pfeffer. Visit them on the web (below) to get a preview of what's waiting at the workshop!
Barbara Krasner, author and educator
www.barbarakrasner.com/
Anna Levine, author
www.annalevine.org/
Debra Hess, editor
Debra is Senior Nonfiction Editor at Highlights Magazine.
Regina Griffin, editor
https://twitter.com/Regina_Griffin
Rubin Pfeffer, agent
www.rpcontent.com/
Posted on: April 24, 2014
Tags: 2014 workshops