A Groundbreaking Workshop for K-5 Educators
HIGHLIGHTS FOUNDATION JOINS
THE ERIC CARLE MUSEUM IN PRESENTING:
The Power of Picture Books: Links to Literacy and Learning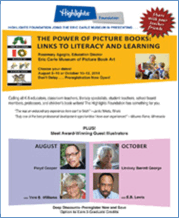 Rosemary Agoglia, Senior Educator
Eric Carle Museum of Picture Book Art
Choose your dates!
Ausust 8-10 or October 10-12, 2014
Don't Delay…Preregistration Now Open!
Calling all K-5 educators, classroom teachers, literacy specialists, student teachers, school board members, professors, and children's book writers! The Highlights Foundation has something for you.
"This was an extraordinary experience from start to finish."—Junko Yokota, Illinois
"Truly one of the best professional development opportunities I have ever experienced."—Maurna Rome, Minnesota
PLUS!
Meet Award-Winning Guest Illustrators

Deep Discounts-Preregister Now and Save
Option to Earn 3 Graduate Credits
On August 8-10, 2014 and again on October 12-12, 2014, Highlights Foundation teams up with Rosemary Agoglia of The Eric Carle Museum of Picture Book Art to raise the bar on visual and verbal literacy. This conference is held at the Highlights Foundation conference center in Northeastern Pennsylvania.
THE POWER OF PICTURE BOOKS: LINKS TO LITERACY AND LEARNING is a groundbreaking professional development workshop that uses the picture book to support literacy development alongside critical and creative thinking skills.
The goal of THE POWER OF PICTURE BOOKS is to increase our children's positive interaction with books and inspire meaningful discussions by exploring the untapped potential of picture books.
The workshop tackles the integration of knowledge and ideas and addresses speaking and listening skills—all part of the Common Core State Standards.
Come see what educators are calling "a life changing experience." At the same time, you have the option of earning three graduate education credits by staying an extra day!
Plus! Local airport ground transportation, all meals, lodgings, and amenities included. For details about the workshop, click here.
PREREGISTER YOUR TEACHING TEAM AND SAVE!
This workshop builds a foundation for cross-curricular growth through literacy. We therefore recommend completing the application as a team, which might include a classroom teacher, literacy specialist (reading, language arts, English, ESL, library science), and/or visual arts teacher. Multiple teams per school are welcome.
AUGUST 8-10 WORKSHOP
Preregister by June 30, 2014:
$350 single attendee; $595 teaching pair
After June 30, 2014: $450 single attendee; $750 teaching pair
OCTOBER 10-12 WORKSHOP
Preregister by August 31, 2014:
$350 single attendee; $595 teaching pair
After August 31, 2014: $450 single attendee; $750 teaching pair
To secure your spot, or for more information, contact Jo Lloyd at 570-253-1192, e-mail jo.lloyd@highlightsfoundation.org, or request an application online. To view upcoming workshops, click here.
Posted on: April 14, 2014
Tags: 2014 workshops