Call of the Klondike wins SCBWI Golden Kite
From Kent Brown, Executive Director:
A coincidence I suppose, but I've found myself missing the Bologna Book Fair these spring days. The part I've missed the most is not seeing the friends I made there.
By happy coincidence, I do maintain some connection with some of those friends.
One afternoon in Bologna I met the team of Bender, Richardson, and White. And here almost two decades later I'm reminded of some discussion with Kim Richardson – the guy in the middle – about his family link to the Klondike, and a satchel of historic papers.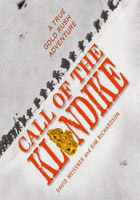 Richardson's family satchel became The Call of the Klondike, published by Boyds Mills Press and written by David Meissner, Chautauqua 2002 Alumni. The book has won a Golden Kite Award for Nonfiction from SCBWI. You can learn something about its genesis here.
Between this announcement about David, and the day I met Bender, Richardson, and White in Bologna, I made four good friends.
Lionel Bender I get to see fairly often; he has been the spark plug, with Sally Isaccs, of the 21st Century Children's Nonfiction Conference, launched last year to strong acclaim. I have been proud to cheer Lionel and Sally on, and look forward to their second conference this summer.
Bender, Richardson, and White and I have done a number of projects over the years. Most all of the offspring of the trio have visited Boyds Mills as guests, and all three have taught multiple times for the Highlights Foundation.
David Messiner and I became friends when he attended our Highlights Foundation Writers Workshop at Chautauqua, and our paths crossed often when he was visiting major juvenile book events in his capacity as Editor for Reading Rockets.
There are lots of twists and turns on the road of publishing, and I'm grateful that my career has interwoven with friends and love of books and serving children.
Posted on: March 6, 2014