Is this the year to energize your creative life?
Picture a cabin by the woods where there's solitude to write and time to dream.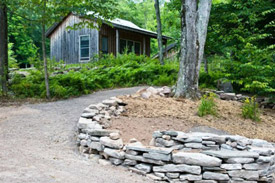 Imagine being immersed in the craft of writing, supported by distinguished authors, illustrators, and publishing professionals.
Now place yourself in a picturesque setting, enjoying the camaraderie of new friends who share your love of writing for children.
Begin to imagine a life-changing retreat at the Highlights Foundation Retreat Center.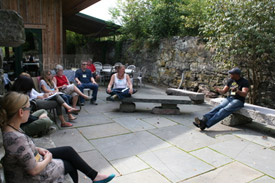 For more than 30 years, the Highlights Foundation has been helping authors and illustrators achieve their creative goals. Twenty-seven of those years were spent near the shores of Chautauqua Lake in western New York State. Writers and artists from all over the world gathered for one magical week each summer to hone their craft with the guidance of award-winning authors and illustrators.
Nowadays, you can find that same Chautauqua magic every summer in Pennsylvania's beautiful Pocono Mountains. In July 2017, we are offering two of these immersive experiences: Summer Camp at the Barn: A Week of Creative Mentorship, July 9-14 and Master Class in Writing Nonfiction for Children and Young Adults, July 16-20.
Summer Camp is an unforgettable time of stimulating talks and workshops, lively panel discussions, one-on-one mentoring sessions, writing, networking, and much more. Fiction, nonfiction, poetry, picture book, magazine and book publishing–no matter what your genre or interest, you'll find programs that will engage your mind and nourish your creative spirit.
Master Class in Writing Nonfiction for Children and Young Adults explores nonfiction from many angles: the editorial, the business, and, most importantly, the art of telling true stories. Work with our talented group of mentors to explore factual writing through a range of topics, including nonfiction voice, biography, memoir, nature writing, science writing, and narrative nonfiction.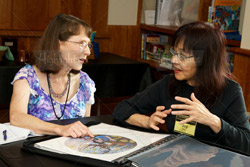 These unique workshops take place in an intimate setting on the property of the former home of the Founders of Highlights for Children. The property has a history of making dreams come true. In 1946, Garry Cleveland Myers and his wife, Caroline Clark Myers, planned the first issue of Highlights for Children in the living room of their farmhouse. Ever since then the property has been a place for inspiring those committed to nurturing children through words and pictures. The tradition continues through the work of the Highlights Foundation.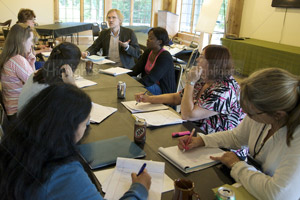 Meet and Mingle with Leaders in the Industry
The members of the Highlights Foundation faculty are leaders in children's publishing. We don't just promise that you'll hear famous authors, illustrators, and editors speak. From day one, you'll have the opportunity to meet and mingle with them. You'll spend the week getting to know the faculty not as famous names but as people. Faculty accessibility is an important feature of the Highlights Foundation, one that sets it apart from other conferences. You'll find no roped-off areas or head tables here.
"The faculty was friendly and forthcoming. I truly felt they were there to help my career and development."—Anne-Marie Perks, Buckinghamshire, England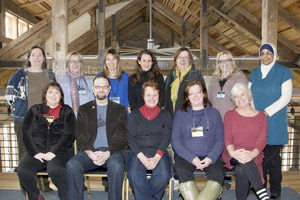 It's a week of nonstop activity.
When you arrive, you'll receive a Highlights Foundation tote bag packed with children's books, magazines, and other materials. It's our way of saying, "Welcome!"
The first evening, you'll have an opportunity to meet the faculty and fellow attendees at a social gathering with appetizers, followed by dinner and an opening keynote address. From there, it's a week of nonstop activity!
General Sessions and a Variety of Workshops
Each day starts with breakfast, followed by an informative general session on topics important to writers and illustrators. Be prepared for inspiring talks and spirited panel discussions. The daily workshops cover topics such as writing technique, genres, children's magazine and book markets, e-books, and a whole lot more! You'll discover fresh ideas, find solutions to your writing problems, and get the lowdown from industry insiders to help you navigate the road to publication. Our workshops offer practical tips and down-to-earth information that you can use.
One-on-One Critiques
"I especially appreciated the thoughtful attention to my writing. It's hard to get this feedback anywhere else."—Dale Purvis, Statesboro, Georgia
During the week, you'll have several one-on-one meetings with your mentor: a writer, editor, illustrator, or other publishing professional. This is your opportunity to discuss your manuscript or career goals. Whatever your concerns, your mentor is ready to help.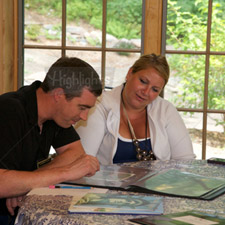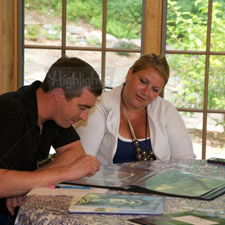 During your free time in the morning, you may wish to write, journal, meditate, or take a quiet walk along the edge of the woods.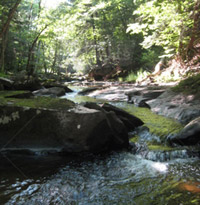 "I had a whole week of brain stretching in serenity. By the week's end, [the workshop] had given us a new family, and a new name: 'Writer'"—Lori Ries, Hillsboro, OR

Each day concludes by sitting down to dinner with your colleagues and faculty members, then enjoying an entertaining after-dinner talk. Don't be surprised if there's an occasional sing-along! From there on, the evening is yours to relax by an outdoor fire or retreat to your cabin to read, write, draw, and—oh, yes—sleep.
Programs are held in a 5,200-square-foot, rustic-looking conference center known as The Barn, built of local wood and fieldstone. The building features a great hall, loft, library, and a large commercial kitchen. Outside you'll find a stone fireplace and patio and a soul-soothing word garden, where you can write messages or poems with word rocks.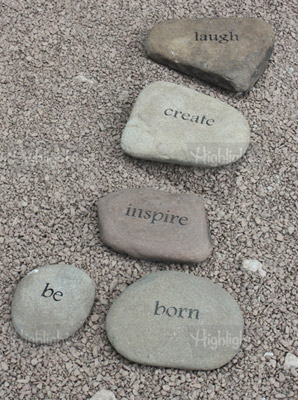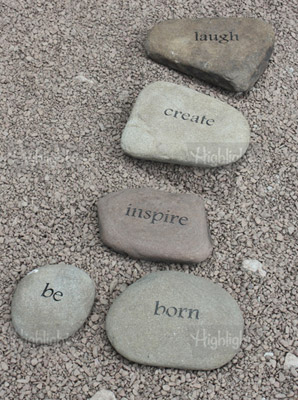 Lodging and Meals
"The cabin was beyond comfortable, and I felt pampered, with exquisite, simple and enriching foods."—Colleen Tsironis, Solon, Ohio

Remember that cabin by the woods? If you pictured Thoreau's spare cabin at Walden Pond, imagine instead a cozy cabin with modern facilities, including a refrigerator, coffee maker, air-conditioner, and bathroom, plus a writer-ready desk, a chair, and shelves filled with books. Your cabin is your own quiet place. By the way, be sure to read the guestbook to see who's been there before you!
Everyone who comes here leaves raving about the food. Farm-style meals are prepared by a top-notch chef and served in The Barn. On one evening, we'll leave The Barn for a picnic. Snacks are always available for late-night or early morning writing sessions. We will accommodate any dietary needs.
Where are we?
Getting here is easy. Honesdale, Pennsylvania, is 2 ½ hours from New York City and approximately 45 minutes from the Wilkes-Barre/Scranton International Airport. We offer complimentary transportation from and to Liberty International Airport in Newark, N.J, Kennedy and LaGaurdia on Long Island, and Wilkes-Barre in Scranton. Workshops take place at our conference center, only a short ride from Honesdale and the editorial offices of Highlights for Children. The conference center is tucked away in the scenic Upper Delaware River Valley, a popular destination for canoeing, hiking, fishing, and eagle watching.
Space is limited!
Our programs are all-inclusive in the price. No separate charge for critiques or one-on-ones of any kind. Snacks, beverages, coffee late in the evening, and all meals included. Endless ice cream, around the clock.
To register now, click here.
To get help figuring all this out, talk the whole thing over with Jo Lloyd by calling (877) 512-8365. Jo can also explain our payment plans, tailored to fit your budget.
After a week at our Retreat Center, we promise you'll go home with new tools in your writer's kit and a feeling of renewed possibility. There's a cabin by the woods waiting for you!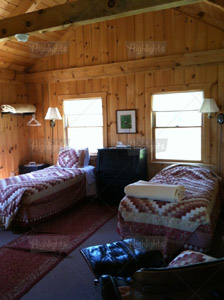 Posted on: March 25, 2014
Tags: 2014 workshops, summer camp