2018 Varian Johnson Scholarship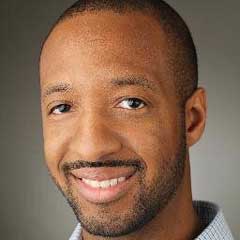 In honor of their significant contributions to the field of children's literature, the Highlights Foundation has created scholarships in the name of each Artist-in-Residency who visited this year.
Varian Johnson writes for children and teens. His Jackson Greene middle-grade series has garnered starred reviews and was named an ALA Notable Book selection. The Parker Inheritance, Johnson's 2018 release, has already earned a star from Kirkus. In addition to his writing, Johnson is co-founder of The Brown Bookshelf and a dynamic speaker at schools and conferences.
In November, Varian worked with seven fellow writers during his residency. Along with generously giving time to all writers each evening, Varian gave the Foundation an advanced copy of The Parker Inheritance.
At the reception in his honor, a representative from the Foundation remarked, "I love Varian's middle grade voice. Reading The Great Greene Heist and its follow-up, To Catch a Cheat, show an honest piece of Varian. His middle grade work lands perfectly for this age group. I love the playfulness of his jokes, the ease of his friendships, and the imagination that still lives in the minds of children at this age, all of it on the pages of his middle-grade stories."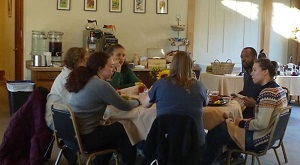 Applications for the 2018 Varian Johnson Scholarship must be received by midnight on Friday, December 22, 2017. The winner will be notified by January 19, 2018 and announced publicly on January 23, 2018. Please follow this link to apply.
The Artist-in-Residency scholarships provide full tuition to qualified 2018 Highlights Foundation programs. Recipients are selected on two criteria: seriousness of purpose and financial need.
More about the other 2018 Artist-in-Residency Scholarships: