2018 Laurie Halse Anderson Scholarship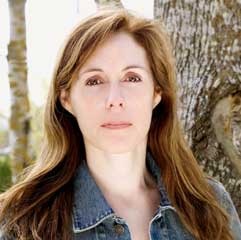 In honor of their significant contributions to the field of children's literature, the Highlights Foundation has created scholarships in the name of each Artist-in-Residency who visited this year.
Laurie Halse Anderson is a New York Times-bestselling author who writes for kids of all ages. Known for tackling tough subjects with humor and sensitivity, her work has earned numerous national and state awards as well as international recognition. Two of her books, Speak and Chains, were National Book Award finalists.
Our residency program began this year with a visit from Laurie Halse Anderson. Laurie worked alongside nine writers and met with them over meals, around campus, and in critique. Laurie helped her writers establish goals for the week and beyond.
At Laurie's reception, the Foundation noted, "She knows that writing a story is a privilege, not a right. And her commitment to that privilege, to the kids and teens she serves, is what makes Laurie's work stand above the rest. Her young adult storytelling reflects the life of real teens in a way that both shocks and satisfies her readers. It is honest, showing the ugliness of humanity at times, but also the power of hope."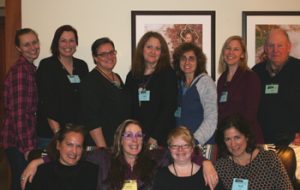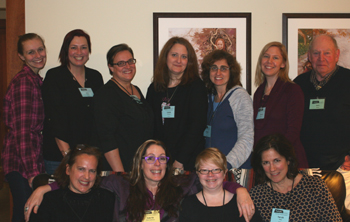 Applications for the 2018 Laurie Halse Anderson Scholarship must be received by midnight on Friday, December 22, 2017. The winner will be notified by January 19, 2018 and announced publicly on January 23, 2018. Please follow this link to apply.
The Artist-in-Residency scholarships provide full tuition to qualified 2018 Highlights Foundation programs. Recipients are selected on two criteria: seriousness of purpose and financial need.
More about the other 2018 Artist-in-Residency Scholarships: