2018 Kathryn Erskine Scholarship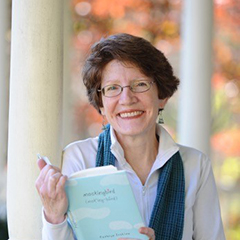 In honor of their significant contributions to the field of children's literature, the Highlights Foundation has created scholarships in the name of each Artist-in-Residency who visited this year.
Kathy Erskine writes books for children and teens. Her debut novel, Quaking, was one of YALSA's Top Ten Quick Picks for Reluctant Young Adult Readers. Her novel Mockingbird won the 2010 National Book Award for Young People's Literature, and her other novels include The Absolute Value of Mike, a Crystal Kite winner, Seeing Red, a Jane Addams Award honor book, The Badger Knight, and The Incredible Power of Being. Kathy's debut picture book, Mama Africa, published in 2017, has garnered several starred reviews.
In June, Kathy Erskine worked alongside six writers during her Artist-in-Residency Retreat. Kathy worked on two projects, including a novel-in-verse and a contemporary teen road trip novel.
At the reception in her honor, the Highlights Foundation shared that, "The presence of Kathy is felt in the pages of this book, in that book, in this room. And for that, we are so grateful. Tonight, we express our thanks to this National Book Award-winning author, who came to the Foundation as student, then teacher, now Artist-in-Residence. We applaud Kathy for her commitment to children."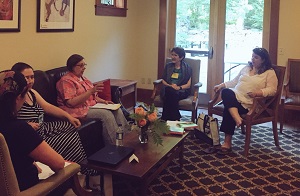 Applications for the 2018 Kathryn Erskine Scholarship must be received by midnight on Friday, December 22, 2017. The winner will be notified by January 19, 2018 and announced publicly on January 23, 2018. Please follow this link to apply.
The Artist-in-Residency scholarships provide full tuition to qualified 2018 Highlights Foundation programs. Recipients are selected on two criteria: seriousness of purpose and financial need.
More about the other 2018 Artist-in-Residency Scholarships: