2018 Denise Fleming Scholarship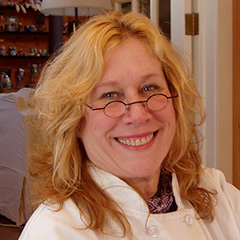 In honor of their significant contributions to the field of children's literature, the Highlights Foundation has created scholarships in the name of each Artist-in-Residency who visited this year.
Denise Fleming is the author/illustrator of many award-winning picture books. Fleming's books are created in her signature style of pulp painting, a paper-making technique. Often, the art is embellished with decorative papers, pastels, or copy transfer. Her work has received many awards, including a Boston Globe-Horn Book honor, a Caldecott Honor, and a Silver Medal at the Society of Illustrators. Her books have been included on many best book lists and master lists, such as Chicago Public Library Best of the Best, CCBC Choices, and the Oppenheimer Gold Medal, among others.
In October, Denise spent five days in our new Art Coop with a select group of esteemed artists. She played a bit (as one would expect), experimented with art materials, wrote, and critiqued.
Along with the play Denise brought to her residency, her reception was filled with color and jest. The Foundation shared, "Tonight we celebrate all that is Denise Fleming: a dear friend of the Foundation, a dazzling creator of books, and an advocate for children and humanity.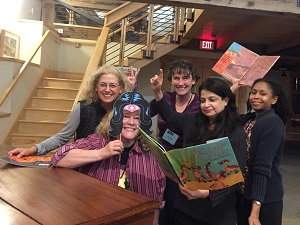 We've hosted residencies before.
Even had receptions like this.
Books decorate the tables to honor our esteemed artists, but this is the first time we've had toys. Googly eyes, stretchy lizards, rainbow pipe cleaners, and Wonder Woman masks–for our wonder woman, Denise. It shouldn't surprise you that a tribute to her would be incomplete without playthings. "A workshop with Denise is equal parts PRODUCTION and PLAY, and this combination comes to the pages of her books as well. Her writing is a playful balance for children of all ages."
Applications for the 2018 Denise Fleming Scholarship must be received by midnight on Friday, December 22, 2017. The winner will be notified by January 19, 2018 and announced publicly on January 23, 2018. Please follow this link to apply.
The Artist-in-Residency scholarships provide full tuition to qualified 2018 Highlights Foundation programs. Recipients are selected on two criteria: seriousness of purpose and financial need.
More about the other 2018 Artist-in-Residency Scholarships: