What does mentorship mean to you?
Our annual Summer Camps start in just a few weeks, and we decided to ask the faculty to share their thoughts on mentorship, since that's such a large part of the Camp experience. What the mentors had to say:
Heidi E. Y. Stemple
"Mentorship means getting to really dig into someone's work and help them find ways to take what they've learned in the lectures and use it in their writing–especially in a class setting where you can revisit a piece several times together."
Carole Boston Weatherford
"As a mentor, I guide mentees as they revise and often help them to re-envision a work. I zoom in for line-editing and zoom out for conceptualization. Having received little mentoring myself, I strive to be the kind of mentor that I wish I'd had as an aspiring and emerging writer."
Dana Meachen Rau
"A mentor is someone on your team, supporting you on a common journey. From my own mentors, I seek those who help me learn about myself and my writing, not those who ask me to imitate them or prescribe how to fix my work. As a mentor, my hope is to support a writer in discovering themselves—both their strengths and wishes. My role is to ask questions and provide a sounding board as they make decisions about their own work."
Elizabeth Pagel-Hogan
"Mentorship means working with someone who helps me see past the problems and encourages me to find my unique solutions in story telling."
Lesléa Newman
"I have been very very fortunate to have been mentored by the poets Allen Ginsberg and Grace Paley and to be in a mentoring/peer relationship with the incredible children's book authors Jane Yolen and Patty MacLachlan. Without the kindness of these four people, I would not be the writer I am today. It is so important to me to pay it forward and mentor emerging writers, especially BiPoc and LGBTQ+ writers, whose voices we so desperately need. I firmly believe that when one of us succeeds, all of us succeed, and nothing makes me happier than hearing that a student of mine has sold a book!"
Steve Light
"I was blessed to be mentored by two great teachers. My high school art teacher who convinced my father I should go to art school and a teacher I met at Pratt, Dave Passalacqua. Dave taught me how to be my own artist and how to draw. He did not teach me to illustrate the way HE illustrated, but to find my own way. As a mentor now I feel it is my job to help students find their own way. To teach them to see all the possibilities in illustration. To help them find their own voice and point of view and also the importance of drawing. All while having fun! We get to create stories! Stories are the greatest gift you can share with the world."
Is this your year to join us at Summer Camp?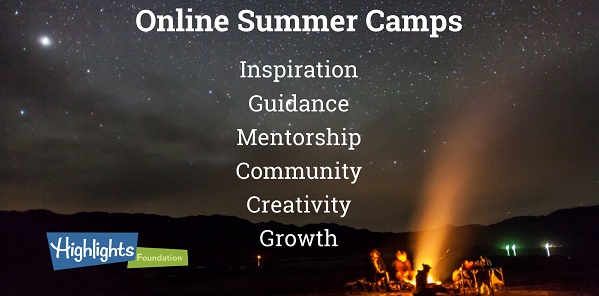 Posted on: June 16, 2021
Tags: mentorship, summer camp