#HFGather: Steve Light Pen & Ink Drawing Demo
We livestreamed our first #HFGather from our Retreat Center on Saturday!
Author/illustrator Steve Light did a drawing demonstration for us, starting by doing a pencil sketch on tracing paper, then using a light box to ink the illustration and after that, using watercolors to finish it. During the demo he also answered many questions about his pens, paints, brushes, colors and creative process (he only works traditionally on paper.)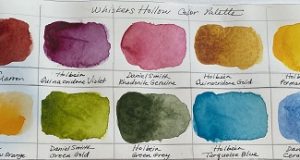 It was really interesting to hear about how Steve creates his books, from idea to sketchbooks to creating characters and color palettes (Steve and his wife, Christine Cincotta, carefully curate a palette for each book!)
And the tools! Here's a list of things he used and/or talked about during the demo: sketchbook, light box, tracing paper, pencil, fountain pens, ink, Exacto knife, eraser stick, watercolors, brushes, pencil sharpener, drafting dogs, paper, pen nibs, heat embosser.
One thing that Steve said seemed to sum up his process: "That's my joy–when I am escaping into the world I'm creating."
Thanks, Steve, for sharing YOUR world with us. If you missed the demo, you can watch it here:
Steve made a finished illustration in the style of his newest book Road Trip A Whiskers Hollow Adventure, which was inspired by time that he spent at our Retreat Center.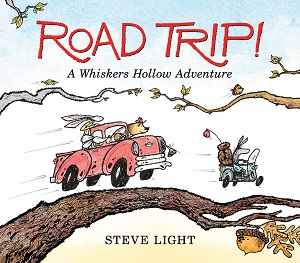 Some of Steve's original art from Road Trip A Whiskers Hollow Adventure will be on display in the Steve Light cabin at our Retreat Center. Steve and his wife, Christine Cincotta, have established a scholarship to provide $300 towards tuition to attend our Summer Camp in Illustration. Find out more about the scholarship here.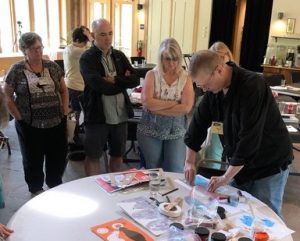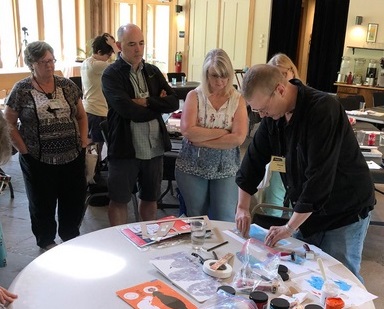 Steve grew up in New Jersey and studied illustration at Pratt Institute. After graduating he did corporate illustrations for companies such as: AT&T, Sony Films, and the New York Times Book Review. Steve then went on to design buttons that were acquired by the Cooper-Hewitt Design Museum. He has since published several children's books with various publishers, including Builders & Breakers; Have you Seen My Lunch Box and Black Bird Yellow Sun.
Posted on: March 29, 2021
Tags: #HFGather, illustration tips, Light