Get Ready. Get Set. Go! NaNoWriMo 2019
Our community is revving up for National Novel Writing Month (NaNoWriMo), an initiative encouraging writers everywhere to commit to penning a 50,000-word novel throughout the month of November each year.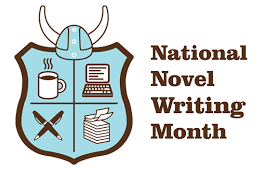 If that sounds interesting to you, sign up at the NaNoWriMo website to get lots of encouragement from them, and also head over to our Facebook event to mark yourself as "going" to the virtual event. If you have a word count goal, tell us what it is. We're going to tally them up, and track our progress weekly as a group.
The next step is to get you inspired! Here are some blog posts that might help:
To celebrate their 20th anniversary and to help you get going every day, NaNoWriMo made this video with writing prompts:
Posted on: October 29, 2019
Tags: inspiration, NaNoWriMo, novels