Introducing Angela Dominguez & Our 2019 Visual Arts Exhibit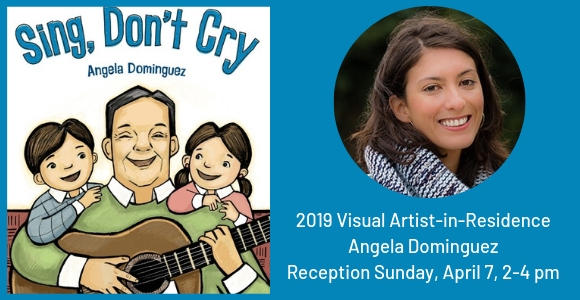 We are very excited to announce that author/illustrator Angela Dominguez will be the featured artist for our 2019 Visual Arts Exhibit! Artwork from Angela's book Sing, Don't Cry will be displayed in the Barn for the entire 2019 workshop season.
Angela was very pleased that her art and, in particular, this book, was chosen: "Sing, Don't Cry is such a personal book about my grandfather and his optimistic spirit. I'm delighted to be able to share the artwork from the book at the Highlight Foundation for all of 2019. I hope that for all the creative people who see it at the barn that they will be inspired and more importantly remember to stay positive about their own works during times of adversity. "For singing gladdens the hearts!"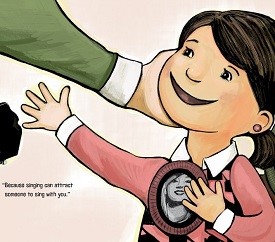 School Library Journal said of Sing, Don't Cry: "In this semiautobiographical picture book, Dominguez honors the memory of her grandfather Apolinar, whose music and optimism had a great effect on her. Every year, Abuelo visits from Mexico, bringing his guitar and his joyful outlook. "He would tell us about his life, and if we were sad about something, he would say, 'Sing, don't cry. Because singing gladdens the heart.'"
Our 2018 Visual-Artist-in-Residence, Shadra Strickland, sent her congratulations out to Angela: "The Highlights barn is such a magical place for writers and artists. To have my work featured throughout the year at the barn was amazing! I was humbled by every tweet, Facebook message, and email that Highlights guests sent after seeing the art there. I am looking forward now to seeing Angela's work up and sending that same type of congratulatory tweet!"
---
Art from our 2018 Visual Artist, Shadra Strickland, provided a wonderful backdrop in the Barn during many workshop sessions!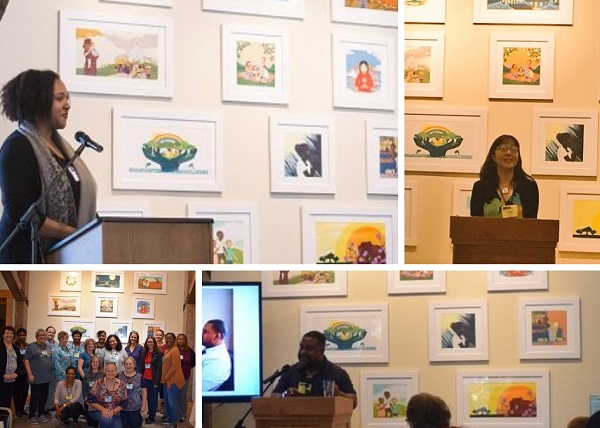 Read about Shadra's Visual Arts Reception here.
Posted on: March 13, 2019