Faculty Interview: Joyce Hostetter
Reading Joyce's guest blog post about an assignment she received years ago at a Highlights Foundation workshop really hit home. I think a lot about – as Joyce (and her editor) call it – "writing from your own backyard." It is easy to make this connection to nature writing, right? Go out for a hike – look and listen to species from your neck of the woods. Or memoir: I lived here and there and in this backyard… Joyce has us consider another approach to writing from our own backyard. How do we research historically to uncover narratives close to home? And why does this sense of closeness matter?
As Joyce said, "When we tell the story that is in our own backyard, we tap into a one-of-a-kind personal space that can't help but convey a universal truth." We are walking the ground, watching the sky change, living in the same space where our story seed began. In Joyce's case, the seed for her first story was planted in Hickory, North Carolina, nearly 75 years ago.
Joyce will share ways that writers can discover personal closeness to historical subjects during our workshop Beginning STEPS to Writing Historical Fiction. She sat down with us to talk about her "STEPS" and this unique course designed to help writers plan and research historical novels.
Alison: Hi, Joyce! Thank you for joining us on the blog today. I really loved your guest post. I've copied the phrase "WHAT IS THE STORY IN YOUR OWN BACKYARD?" and pinned it to my idea board. You mentioned that this was an assignment from your editor, Carolyn Yoder. What other discoveries has Carolyn led you to as a historical writer?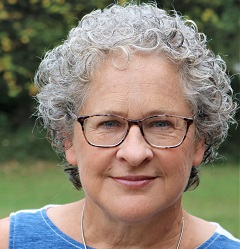 Joyce: My early learnings from my editor were all about being faithful to history, but Carolyn also pushes me to be true to my characters – to dig deeply to find out what they're actually struggling with and what it is they want. The answer to those questions is often tied to history itself, as my characters are shaped by the eras they live in. Carolyn calls me to develop each of my characters into fully dimensional people. But she never puts words in my mouth or tampers with my writing.
Alison: I also read a post that you placed on your own blog: "HOW DO YOU BUILD A BRIDGE?" Another Carolyn Yoder question (and another great one for writers to pin to their idea boards). Are you working with Carolyn on a novel now?
Joyce: Actually yes, the fifth and final book in Bakers Mountain Stories. As I will cover in the course, I am keeping STEPS in mind as I write this historical novel – starting with S for Story. I'm in the early research phase, reading old newspaper accounts of sit-ins and protests, trying to uncover the plot by noticing what my character would be reading and hearing about race relations in the news.
Carolyn Yoder taught me the importance of showing Time and Place with the use of accurate details in my story. So while I'm reading news articles, I'm also noticing ads, cultural events, weather, and national and world news. Of course, I couldn't write without calling on Experts, those folks who've specialized in the topics I'll be writing about, and also those who lived through the time period and felt its effects personally. During the workshop, I plan to use examples from my work-in-progress to illustrate where I find my Sources and how I keep track of them. I'll also use my work-in-progress to demonstrate each of the STEPS we need to cover during the course: Story, Time, Experts, Place, and Sources.
Alison: Thank you for giving us a little preview of the course. We are thrilled to have you visit in October. You have some wonderful guests joining you throughout your workshop: Carolyn Yoder, Julie Chibbarro, Lila Quintero Weaver, and your research buddy, Carol Baldwin. Carol will give a lecture on experts. How does this tie into the framework of your overall course?
Joyce: After my lecture on seeking insight from archivists, specialists, eyewitnesses, and survivors, Carol will share some of her firsthand interactions with experts and how they've helped shape her current work-in-progress. Carol will offer resources as well as ways to avoid some missteps when contacting experts in relation to stories.
I am also thrilled to have Julie Chibbarro on campus with me to talk about infusing stories with a sense of locality and culture, especially since it seems that we come at the thread of place from different angles.
Alison: It sounds like an amazing experience for historical fiction writers. Thank you for taking the time to chat with us today, and we will see you in October!
Joyce: See you then!
Posted on: August 16, 2018