Faculty spotlight: editor Kat Brzozowski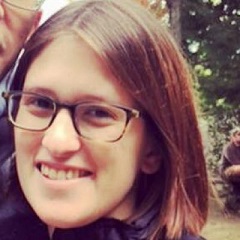 We are beyond thrilled to have editor Kat Brzozowski as one of our faculty guest editors. By way of introduction:
About Kat
She is an editor at Swoon Reads/Feiwel & Friends. She has edited a wide range of young adult fiction, including Anna-Marie McLemore's When the Moon was Ours, which received a Stonewall Honor and was longlisted for a National Book Award, and new Fear Street books in R.L. Stine's best-selling series, which has sold over eighty million copies worldwide. She's also the editor for Tony Award-winning Leslie Odom Jr's Failing Up.
What she's looking for
Kat is looking to acquire young adult fiction across a wide range of genres, especially contemporary, realistic YA with a strong hook; dark, contemporary fiction, mysteries, suspense and thrillers; and sci-fi and fantasy that's mostly rooted in this world. She is especially interested in YA with crossover appeal, characters from marginalized backgrounds, and strong voices. You can also find her on MS Wish List.
Which Hogwarts house is she in?
She self-identifies as a Ravenclaw. Find out more in this interview at Swoon Reads.
How does Swoon select the books they publish?
Kat share some thoughts on this in this SCBWI interview.
Kat on Twitter
Kat has a fun presence on Twitter, and you'll learn a lot about the day-to-day with this particular editor! Follow Kat on Twitter.
Posted on: August 10, 2018
Tags: faculty spotlight