Pat is the author and/or illustrator of over 35 books for young readers.  She also edited the award-winning series, Talking With Artists, which profiles prominent children's book illustrators. Her Children's Book classes at Parsons and Pratt list a growing number of …

Denise Fleming is the author/illustrator of many picture books. Fleming's books are created in her signature style of pulp painting—a paper making technique. Often the art is embellished with decorative papers, pastels, or copy transfer. Her work has received many …

Floyd Cooper is the Coretta Scott King award-winning illustrator of more than 60 books for children. Floyd started his career in illustration at Hallmark, after a successful career in the industrial side of art, he made the leap into picture …
Steve Light grew up in an enchanted place called New Jersey. He always loved to draw as a child and to this day always has a sketchbook with him. When asked what he wanted to be when he grew up, …

Patti Ann Harris is the Executive Art Director at Scholastic Inc.

After working and traveling around Europe after college and working in different jobs in New York City, Marcia Wernick finally found her calling in children's publishing. She began working at the Sheldon Fogelman Agency in subsidiary rights, advancing to director …
Alison Green Myers is a National Writing Fellow and Literacy Specialist. She specializes in connecting curriculum-driven instruction to creative writing and language work.

Neal Porter is the editorial director of the Neal Porter Books imprint of Roaring Brook Press. He has been in the book publishing business for decades. His work has spanned both the editorial process and the marketing departments of the industry.
"Instructors gave priceless, descriptive, and corrective feedback. I loved every minute!"—2014 attendee
"It has been my experience that Highlights runs great children's book conferences with high quality instruction and a comfortable environment."—
Susan Chitwood
, 2014 attendee, Charlottesville, VA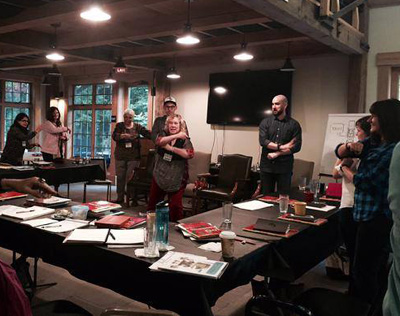 Workshop Description
Please note: this workshop is full. Send us an email to join our waiting list!
Finish your picture book and get it ready for submission. Designed for authors and illustrators with a picture book project in progress or in mind, this workshop offers a unique opportunity to develop it, polish it, finish it, and present it to top publishing professionals. You'll work with established children's book author/illustrators to get your project ready to present to a senior editor and a senior art director from two major publishing houses. You'll also meet with a top literary agent interested in discovering new talent.
The workshop will be limited to twenty participants, with acceptance based on the viability of your book project. A maximum of 200 words from your manuscript and/or three illustration samples must accompany your application. If you're ready to roll up your sleeves and finish that dream project, this workshop offers direct input from a faculty dedicated to helping you get your picture book published.
Our all-inclusive price means we provide:Transportation from the airport, lodging, all meals, unlimited snacks, and wireless Internet access.
Workshop Information
Begins at 3 p.m. on Thursday, July 7 with an optional tour of Highlights for Children and Boyds Mills Press; ends on Sunday, July 10, after lunch.
Event Cost: $1745 Register by February 19, 2016 and get a 10% early-bird discount