Summer Camp at the Barn: A Week of Creative Mentorship 2016
< Return to Workshops
July 17 – July 23, 2016

Kathy spent fifteen years as a lawyer before turning to her first love: writing. She was lucky to work with Patricia Gauch and her debut novel, Quaking, was one of YALSA's Top Ten Quick Picks for Reluctant Young Adult Readers. …

Lamar Giles writes novels and short stories for teens and adults. He is the author of the 2015 Edgar® Award Nominee Fake ID, the 2016 Edgar® Award Nominee Endangered, a third, currently untitled YA novel from HarperCollins, as well as the forthcoming YA novel Overturned from Scholastic Press. Lamar Giles is a founding member …
Susan Campbell Bartoletti is the author of picture books, novels, and nonfiction for children, including the Newbery Honor book Hitler Youth: Growing Up in Hitler's Shadow, the Sibert Medalwinning Black Potatoes, and Dear America: A Coal Miner's Bride.

Mitali was born in Kolkata, India, and immigrated at age seven to the United States with her family. Her award-winning books for young readers include Bamboo People, Monsoon Summer, Rickshaw Girl, Secret Keeper, and the First Daughter books.

Jillian Sullivan has written young adult novels, collections of short stories, picture books, a book on mythology, a book on writing, and a collection of poetry titled parallel, which was recently released. Her awards include the Highlights Fiction Award and …
Alison Green Myers is a National Writing Fellow and Literacy Specialist. She specializes in connecting curriculum-driven instruction to creative writing and language work.

Peter is professor emeritus of journalism at Indiana University and a consultant with magazines and corporations, helping CEOs, writers, and editors learn to express their ideas more effectively. His articles have appeared in World Book, the New York Times, Highlights, …

Jan Cheripko is author of seven books for children and young adults, including the award-winning YA novel, Imitate the Tiger. He has been a featured author at NCTE, IRA, and numerous regional, state and local educational conferences.
Adriana Domínguez has twenty years of experience in publishing. Prior to becoming an agent, she was Executive Editor at HarperCollins Children's Books, where she managed the children's division of the Rayo imprint. Before that, she was Children's Reviews Editor at Críticas magazine, …

Jessica Echeverria is an editor at Lee & Low Books, an independent children's book publisher focusing on diversity. Over the past seven years, she has worked on a variety of different formats including early readers, bilingual books, middle grade fiction, …

Clara Gillow Clark is a critically acclaimed author of six novels of historical fiction for middle grade readers. In addition to many of her books being shortlisted for numerous State awards, her novel, Willie and the Rattlesnake King won an International Reading …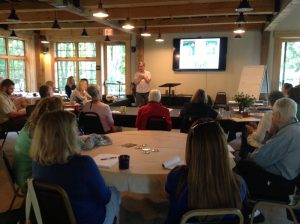 Author and illustrator Matt Phelan shares his ideas about creating graphic novels with participants at 2015's Summer Camp.
Workshop Description
The Highlights Foundation tackles summer camp a bit differently than S'mores by the campfire and hiking in the woods (although those adventures are always on our schedule). To us, Summer Camp, is a time to find the kind of encouragement for your writing that only a generous mentor can provide. Someone to guide you in the long process of publication; a place to work one-on-one with a published author on fine tuning your words and mastering your pitches in a relaxed and supportive atmosphere.
This year's summer camp will kick off each morning with an inspiring keynote, followed by an hour and a half of one-on-one mentorship. You will have a writing mentor for the week able to offer broad critiques of your writing as well as immediate feedback on work produced at camp. Your mentor will support your goals for the week whether you want to flush out one piece for submission or identify the strongest concept for your work-in-progress. Our goal is to meet your needs by providing one-on-one support each day of camp.
Conferees will also find time to meet with other members of our faculty for guidance in the submission process, including query writing basics and the current children's book market. We know, however, that the most important piece of the publication puzzle is developing your writing muscle. That's why we've dedicated plenty of time for you to work on your craft in the comfort of your private accommodations.
There will be ten breakout sessions throughout the week lead by an editor, agent, author, or illustrator. Each break out session is designed to help you grow as a writer through hands-on exercises. You pick the sessions that most appeal to you. Our faculty will cover topics like creating rich characters; developing voice; constructing believable settings; word choice; transforming stories from didactic to child-friendly; structuring plot; nonfiction; poetry; and much more.
This experience is not to be missed for an emerging writer or any writer who is looking to experience the generosity of creative mentorship like only The Highlights Foundation can give.
You will need to submit a writing sample by June 10 so that we can best match you with one of our creative mentors. Registration for this workshop is limited. Register now!
We have five $500 competitive grants for this program. Applications available from
Jo Lloyd
.
Registration is on a first-come, first-served basis.

Our all-inclusive price means we provide transportation from the airport, lodging, all meals, unlimited snacks, and wireless Internet access.
Workshop Information
Begins Sunday, July 17 with dinner, and ends on Saturday, July 23 with brunch.
Event Cost: $1685